Featured Titles
Wish you could press pause on summer? Tackle summer TBR lists with audiobooks!
It's that time of year when all of us tend to say, "Where has the summer gone? How is it flying by so quickly?!" And if you're a librarian or book-lover, a common complaint is: "But I still have so many summer reads on my list!" Remind patrons that audiobooks can help.
Whether stuck in beach traffic, lounging on the porch, commuting to work, exercising outside, or cooking in the kitchen, listening to audiobooks is the perfect way to tackle our ever-growing TBR lists. Luckily, summer's hottest blockbusters provide much-needed audio escapes.
Here are 9 picks to heat up headphones and fill patrons' beach bags this summer…

Janet Evanovich
is one of the world's biggest-selling authors—always in demand by listeners who love her fun-filled, action-packed stories that make for the perfect thrilling beach listens. This summer brings us TWO new listens from Evanovich: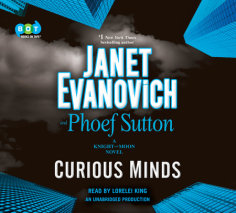 NEW YORK TIMES BESTSELLER • Janet Evanovich, bestselling author of the Stephanie Plum series, teams up with Emmy-winning writer Phoef Sutton for a brand-new series of mysteries featuring Emerson Knight and Riley Moon, a dynamic duo with instant and undeniable chemistry.
King is known for bringing Evanovich series to vivid life, whether it's the irresistible Stephanie Plum or the multiple characters of the Lizzy and Diesel series also co-written by Sutton. King says, "One of the wonderful things about narrating a series is getting to know the characters so well that they become like family." Audio praise for King:
"…delivers her usual outstanding performance."—Library Journal (Takedown Twenty)
"King's outstanding narration flavors this mystery and brings out its humor."—AudioFile (Tricky Twenty-Two)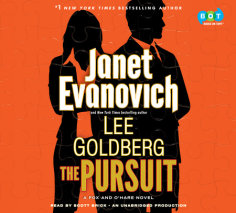 #1 NEW YORK TIMES BESTSELLER • Janet Evanovich, author of the blockbuster Stephanie Plum novels, and Lee Goldberg, writer for the Monk television show, team up once again in their New York Times bestselling Fox and O'Hare series!Nicolas Fox, international con man, thief, and one of the top ten fugitives on the FBI's most-wanted list, has been kidnapped from a beachfront retreat in Hawaii.
The fifth Fox and O'Hare listen is read once again by fan favorite Scott Brick who consistently receives raves for the series:
"Scott Brick is such an outstanding narrator."
—AudioFile Earphones Award (The Heist)
"Brick brings the perfect tone to his narration, walking the line between suspense and comedy, keeping listeners on the edge of their seats…"—Publishers Weekly (The Chase)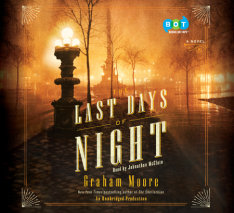 NEW YORK TIMES BESTSELLER • "A world of invention and skulduggery, populated by the likes of Edison, Westinghouse, and Tesla."—Erik Larson   "A model of superior historical fiction . . . an exciting, sometimes astonishing story.
Gas lamps still flicker in the city streets, but the miracle of electric light is in its infancy.
A thrilling listen based on actual events (perfect for Erik Larson fans), about the nature of genius, the cost of ambition, and the battle to electrify America—from the Oscar-winning screenwriter of The Imitation Game. All the central facts of the case are real and the audiobook features a cast of infamous historical characters in the Gilded Age of New York.
"A thought-provoking, suspenseful novel, surprising in its focus, like Matthew Pearl's The Technologists…"—Booklist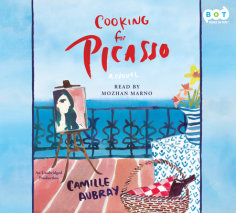 For readers of Paula McLain, Nancy Horan, and Melanie Benjamin, this captivating novel is inspired by a little-known interlude in the artist's life."A tasty blend of romance, mystery, and French cooking."—Margaret Atwood, via Twitter The French Riviera, spring 1936: It's off-season in the lovely seaside village of Juan-les-Pins, where seventeen-year-old Ondine cooks with her mother in the kitchen of their family-owned Café Paradis.
A mysterious new patron who's slipped out of Paris and is traveling under a different name has made an unusual request—to have his lunch served to him at the nearby villa he's secretly rented, where he wishes to remain incognito…
For patrons who love to listen while they cook, or who want to make a trip to the beach more delicious, this captivating audiobook that takes listeners on a trip between The French Riviera, spring 1936 and New York, present day is a great addition to any audio menu.
"Marno's impeccable accents bring authenticity to the women's stories, which focus on both culinary skills and love…full of art, family bickering, and of course, fabulous food—fully enjoyable."—AudioFile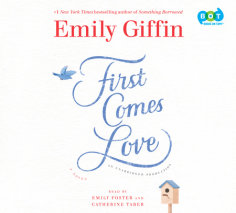 #1 NEW YORK TIMES BESTSELLER • A pair of sisters find themselves at a crossroads in this dazzling new novel from the author of Something Borrowed, Where We Belong, and The One & Only. First Comes Love is a story about family, friendship, and the courage to follow your own heart—wherever that may lead.
A heart-stirring summer listen with two actresses behind the mic to breathe life into sisters Josie and Meredith Garland.
"Narrators Catherine Taber and Emily Foster give a compelling performance as two sisters struggle to move through a family tragedy that has impacted their lives and their fragile relationship with each other."—AudioFile Earphones Award

More Blockbuster Beach Listens
Sign up for our newsletters to be the first to hear about the hottest new releases!
What are you listening to this summer? Tell us on Facebook or Twitter!