Wil Wheaton Returns to Narrate Ernest Cline's READY PLAYER TWO Audiobook
Wil Wheaton returns to narrate Ernest Cline's READY PLAYER TWO on sale Nov 24!
The Ready Player One book and audiobook have been featured on hundreds of "best of" lists around the world, and received numerous honors, including the Alex Award, and was voted one of America's 100 Most Loved books of all time in PBS's "The Great American Read."
In addition to his memorable TV and film roles, including in Stand by Me, Star Trek: The Next Generation, Flubber, and The Big Bang Theory, Wheaton is an acclaimed voice actor and listener-favorite narrator, also performing Cline's Armada and books by John Green and Randall Munroe.
Get ready to meet the demand!
Get ready to press play on the highly anticipated sequel to Ernest Cline's #1 New York Times bestseller, Ready Player One (also narrated by Wheaton), which was adapted into Steven Spielberg's blockbuster film of the same name.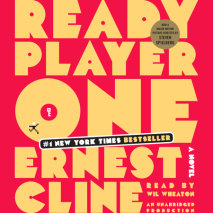 Audio praise for Ready Player One: "Wheaton's enthusiasm for the quest and his sensitive portrayal of characters and events are outstanding, but his management of the pace is truly phenomenal."—Booklist, starred review
"Wheaton, Wesley Crusher on TV's Star Trek: The Next Generation, does an excellent job reading this sf coming-of-age novel, capturing Wade's tension and determination. Recommended for sf and 20th-century pop culture aficionados."—Library Journal, starred review