In The Studio, Video
VIDEO: In the Studio with Simon Vance as he narrates the next Lisbeth Salander audiobook
Step into the studio with award-winning narrator Simon Vance as he records the next installment in the beloved Millennium series, THE GIRL WHO LIVED TWICE by David Lagercrantz. Do you offer the full series on audio at your library?
Previous series praise:
"Simon Vance is outstanding, as is his narration. His voices are so natural and fit so well with their characters that the listener is completely transported into the story."—AudioFile
"Masterful reading…[listeners will] be amazed at Vance's ability to seamlessly shift between his natural British accent to Swedish and Russian dialects, among others."—Booklist, starred review
"Reader Simon Vance is the perfect choice."—Library Journal
On sale August 27, 2019: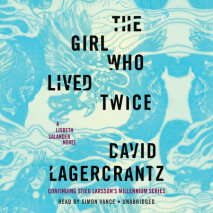 NATIONAL BESTSELLER • Lisbeth Salander must face the most important battle of her life, and will finally put her past to rest in this Millennium series thriller that will "leave Salander's legion of followers clamoring for more" (The Wall Street Journal).
Check out more of the hottest August audiobook releases here.