Guest Post
Vesper Stamper on Listening and Learning
Vesper Stamper is an author/illustrator living in the Northeast with her husband, filmmaker Ben Stamper and her two children. She has an MFA in Illustration as Visual Essay from School of Visual Arts, NYC.
I'm going to let you in on a dirty little secret:
I'm an embarrassingly slow reader
.
As a writer, it took a long time to admit this to myself. There are various reasons. I'm either too busy to finish a whole book, or I get obsessed with the musical cadence of a certain passage, or else I plain zone out. A few years ago, I was in several back-to-back car accidents, which added some difficulty to my concentration. There's no way I can plow through the pile of books by my bedside table, let alone the sizable library of books I've collected as a result of the common disorder of book addiction.
When I began writing novels, with their high demand for research reading, it was often difficult to find long swaths of time to absorb a whole book. I'm also pulled in many directions, between being a busy illustrator, mother—and, well, an extrovert who wants to be a part of everything. I need to be able to make my time do double duty, and audiobooks stepped in to the rescue. I can listen while commuting, illustrating, making dinner; I can stop and bookmark a passage of relevant research and add a note, or dictate a newly inspired passage on my notes app.
I've also discovered that I'm just as much an aural learner as a visual one. Among art makers, I know that I am hardly unique; so many of us are multidisciplinary, and I've worked on myriad collaborative projects. Since I came to writing through a side door, so to speak, I draw on my previous experience with songwriting and performing for the way language simply sounds. I love to listen to audiobooks of language masters like Dostoevsky or Herta Müller or Emily Brontë, and simply listen to the rhythms of their words. Whenever I see live music, I pull out my sketchbook and not only sketch the musicians, but write lyrics or poetic fragments inspired by the performance as well.
The same happens when I listen to books. The inflections themselves inspire new passages. It reminds me of sitting on my grandpa's lap as a child, making wild drawings while listening to him tell me stories. Audiobooks have often served to lift me out of being overly pedantic, and to simply experiment with words as another medium in my Art Bin. I don't just get more done—there's been an element of playfulness added to my work through listening to stories.
Listen to a clip from Vesper Stamper's debut audiobook, WHAT THE NIGHT SINGS: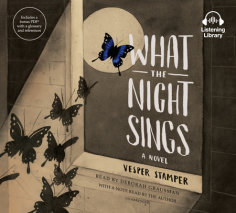 A Morris Award FinalistLonglisted for the National Book AwardFor fans of The Book Thief and The Boy in the Striped Pajamas comes a lushly illustrated novel about a teen Holocaust survivor who must come to terms with who she is and how to rebuild her life.