Featured Titles
THE GRIEF KEEPER Author Alexandra Villasante on Finding Her Perfect Narrator
By Alexandra Villasante, author of The Grief Keeper
There's an inherent magic contained in audiobooks that triggers my earliest memories of being read to by my mamá. Whether it was Caperucita Roja or Mouse Tales, the memory of spoken words blooming into action, like a comfortable dream or beloved movie, is something I've always cherished—even after learning how to read for myself.
Maybe that's why, aside from being beyond excited that my debut YA novel, The Grief Keeper, would be published as an audiobook, I was also a full of trepidation. I love audiobooks. I listen as I drive, as I run along the canal or wash dishes. I know that the right narrator can transform spoken language into new worlds—an extraordinary, everyday miracle.
Still. How would we find a narrator to tackle my complicated, broken, fierce main character, Marisol Morales? At seventeen, Marisol is fascinated by language. Having learned to speak English in her home country of El Salvador, Marisol learns American by watching Cedar Hollow, the export TV series where best friends Amber and Aimee fall in and out of love and friendship.
When Marisol and her little sister, Gabi, escape violence and finally arrive in the United States, it isn't exactly the way Marisol imagined from watching Cedar Hollow. As soon as she opens her mouth, people know she's from somewhere else. Marisol is careful about what she says and when, careful to speak only when she's sure she understands—and will be understood. She questions the meaning of words in English, dissecting words like withstand and wondering how standing with can mean to endure.
When writing from Marisol's perspective, I channeled both my experience of speaking two languages—that toggle and dance that happens when shifting from one language to another—and the experiences of my parents. As immigrants with only some English when they arrived in the United States, my parents often lacked understanding of idiomatic phrases. Their formal delivery singled them out as other. As a child, it was painful for me to watch people treat them with disdain, as if imperfect English was a sure sign of stupidity.
This kind of disdain is only one obstacle Marisol has to overcome. And when I thought about the narrator for the audiobook, I wondered how we would ever find someone who could sound authentically Salvadoreña when speaking Spanish and appropriately accented when she spoke English. The narrator also had to sound effortlessly American when speaking as other characters. In short, this performer had to be able to do it all.
I was nervous to hear Ana Osorio's audition for The Grief Keeper. Would she get it right? Marisol's protective spirit coupled with her yearning and fear—there was so much that could go wrong. And yet an extraordinary, everyday miracle occurred. From the first word, I wasn't hearing Ana at all. I was hearing Marisol—my Marisol, with all her intelligence, fierce bravery, and disarming desire to love and be loved. I'll admit that I cried, just a little.
---
Discover why you should add The Grief Keeper to your YA collection: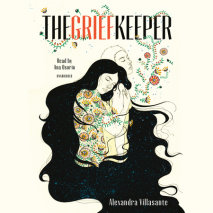 "Hauntingly beautiful."—
School Library Journal
"The Grief Keeper shows us trauma and grief without ever glorifying the pain or wallowing in the tragedy, creating a realistic yet still hopeful world seen through the gaze of an intelligent, curious protagonist."—Shelf Awareness
"Villasante writes of first love with an authentic voice, beautifully capturing its nervousness, excitement, and awe…A story worth reading." —Booklist
"In her debut, Villasante captures the pressures of internalized racism in immigrants…Will grip readers and provoke empathy." —Kirkus Reviews