Video
THE GIVER OF STARS narrator Julia Whelan's favorite people? Librarians, of course!
Was it written in the stars?…
At this year's June 2019 American Library Association (ALA) Annual Conference in Washington, D.C., Julia Whelan was meeting her "favorite people" (librarians) and signing audiobook copies of Educated (for which she won a 2019 Audie Award for Best Female Narration), when just across the aisle, none other than bestselling author, Jojo Moyes, was about to do her own signing.
A huge fan of Moyes, Julia was thrilled to have just been cast as the narrator of her next book! The two were surprised and delighted by this chance meeting, resulting in a lovely photo (also above) and chat before Julia headed into the studio to record this summer. Finally, THE GIVER OF STARS can be shared with all of you! Hear why Whelan loved every moment of this audiobook experience.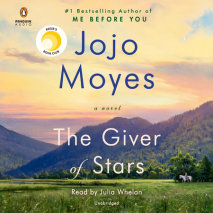 A Reese Witherspoon x Hello Sunshine Book Club Pick
"This audiobook is a gorgeous listen about friendship, love, independence, and the power of stories. Narrator Julia Whelan brings to life a wide range of characters…At times funny, at times heartbreaking, and always compelling, this is a must listen."—AudioFile
Available on CD, audio download, and in large print.
THE GIVER OF STARS was also selected for the October LibraryReads list!