Collection Development, Featured Titles, Hear Diversity
The Bestselling Kids Series ORDINARY PEOPLE CHANGE THE WORLD Comes to Audio—Listen to Clips!
Who are your heroes? How did you first "meet" them? Who are the people whose stories you would most like to share with your youngest patrons?
Written by #1 New York Times bestselling author Brad Meltzer, Ordinary People Change the World—a joyous and inspiring 17 book series for kids—is now available on audio! Read by an all-star cast of narrators, who recorded most of the series together in an epic group recording session (see pic below), this special Books on Tape collection is essential for librarians, parents, teachers, and every young listener. Spanning generations, from the historical to the contemporary, these audiobooks demonstrate how the courage, perseverance, and compassion of ordinary people can lead to extraordinary lives.
Sitting in the studio while this talented cast recorded these books was one of the most rewarding experiences of my career. We cast all of these actors because of their incredible range, and they truly did utilize all of their skills for this project. At different points throughout the day I found myself closing my eyes and being transported to important times in history. There were moments when I felt like Neil Armstrong, Gandhi, and Helen Keller were sitting right next to me, and I think children will have the same experience when they listen to these extraordinary performances.Dan Zitt, Audio Producer
Media tie-in alert!: PBS KIDS recently announced that Xavier Riddle and the Secret Museum, an animated show based on the Ordinary People Change the World series, will debut nationwide in Fall 2019 on PBS stations and introduce children to inspiring historical figures.
The Cast of the Ordinary People Change the World Audiobooks

Front row: Robin Miles, Jonathan Davis, Jennifer Lim, Donte Bonner, Oliver Wyman, Rebecca Soler, Zane Birdwell (director)
Back row: Aaron Blank (Producer), January LaVoy, Saskia Maarleveld, Marc Thompson, Dan Zitt (Producer)
Listen to an audio clip from this special collection now: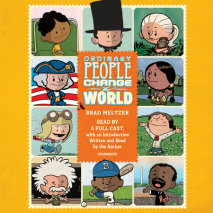 Seventeen titles from the
New York Times
bestselling series brought to life by a full cast! What makes a hero? Brad Meltzer and illustrator Christopher Eliopoulos answer that question, one great role model at a time. This audiobook collection includes:
I am Billie Jean King
I am Neil Armstrong
I am Sonia Sotomayor
I am Abraham Lincoln
I am Amelia Earhart
I am Rosa Parks
I am Albert Einstein
I am Jackie Robinson
I am Lucille Ball
I am Helen Keller
I am Martin Luther King, Jr.
I am George Washington
I am Jane Goodall
I am Jim Henson
I am Gandhi
I am Sacagawea
I am Harriet Tubman
"This is not just a series of books," says bestselling author Brad Meltzer. "This is my dream for my daughter. My dream for my sons. These aren't just the stories of famous people. They're what we're all capable of on our very best days. This is our history and, I hope, our greatest legacy."