Teacher's Guide: A Wrinkle in Time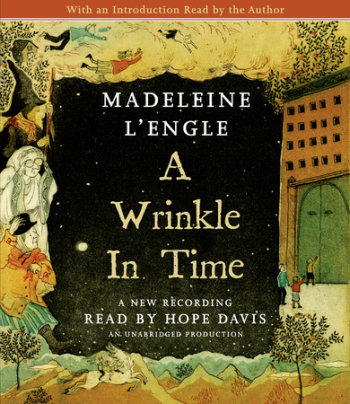 ABOUT THIS BOOK
Fourteen-year-old Meg Murry, her younger brother, Charles Wallace, and best friend, Calvin O'Keefe, are in search of her scientist father when one stormy night an unearthly visitor takes them on a fantastic voyage to rescue her him. Can they overpower the forces of evil on their journey through space?
An Excerpt from A Wrinkle in Time


"When are we going home?" Meg asked anxiously. "What about Mother? What about the twins? They'll be terribly worried about us. When we didn't come in at bedtime--well, Mother must be frantic by now. She and the twins and Fort will have been looking and looking for us, and or course we aren't there to be found!"
"Now, don't worry, my pet," Mrs. Whatsit said cheerfully. "We took care of that before we left. Your mother has had enough to worry her with you and Charles to cope with, and not knowing about your father, without our adding to her anxieties. We took a time wrinkle as well as a space wrinkle. It's very easy to do if you just know how."
Excerpted from
A Wrinkle in Time
by Madeleine L'Engle. Copyright © 1962 by Madeleine L'Engle Franklin. Excerpted with permission from Farrar, Strauss & Giroux, Inc. All rights reserved.
ABOUT THIS AUTHOR
Madeleine L'Engle is the author of more than forty-five books for all ages, among them the beloved
A Wrinkle in Time,
awarded the Newbery Medal;
A Ring of Endless Light,
a Newbery Honor Book;
A Swiftly Tilting Planet,
winner of the American Book Award; and the Austin family series of which
Troubling a Star
is the fifth book. L'Engle was named the 1998 recipient of the Margaret A. Edwards award, honoring her lifetime contribution in writing for teens.
Today, Ms. L'Engle lives in New York City and Connecticut, writing at home and at the Cathedral of St. John the Divine, where she is variously the librarian and the writer-in-residence. "It depends from day-to-day on what they want to call me. I do keep the library collection--largely theology, philosophy, a lot of good reference books--open on a volunteer basis."
TEACHING IDEASIn the Classroom Suggested Classroom Activities
Madeleine L'Engle's time-travel adventure novels call upon readers to think about the battle between good and evil. L'Engle brilliantly deals with this and other themes such as love, courage, and family relationships--themes that are as important today as when Wrinkle was written over three decades ago.
Each of the four Time Quartet books stands alone, so any one would make an excellent choice for reading aloud as well as a class novel study.
Use this guide to initiate discussion in your classroom and to integrate the novels into all areas of the curriculum. We invite you and your students to join Meg, Charles Wallace, and the others on their adventures. Tesser well!
Pre-Reading Activity
To prepare for a study of L'Engle's time-travel adventure stories, ask students to define fantasy and science fiction. What is the distinction between the two genres? Then ask them to list popular movies and television shows that fit into these genres. Have them discuss which they consider fantasy and which science fiction--or a combination.
Thematic Connections Good vs. Evil
In
A Wrinkle in Time
, Mrs. Whatsit, Mrs. Who, and Mrs. Which take Meg, Calvin, and Charles Wallace to the planet Uriel. There, as they see The Dark Thing, a shadow that is creeping over the cosmos, the children begin to understand the age-old struggle between the forces of good and evil. Have students make two columns on a large sheet of paper; one column should be labeled "good," and the other "evil." Beginning with Love and Hate, one in each column, ask students to list other characteristics of these forces.
In each of the novels, members of the Murry family learn important lessons when they encounter evil forces. Ask students to identify the conflict in each novel and discuss the overall theme of good vs. evil. How are these conflicts resolved? What does each Murry child learn about the power of love?
In
A Wind in the Door
, Charles Wallace is tormented by his classmates. Meg says, "It's not right in the United States of America that a little kid shouldn't be safe in school" (p. 47). Engage the class in a discussion about the safety issues facing public schools today, for example bullying, weapons, gangs, etc. How are these issues considered "evil" forces?
Courage and Honor
In A Wrinkle in Time, Meg experiences various types of love throughout her adventure. When she returns to Camazotz for Charles Wallace, she learns that love can enable her to be brave in the face of danger. It provides her with the strength that she needs to overcome evil. Ask students to trace the development of Meg's understanding of the power of love and discuss or write about it in an essay format.
In some ways, Charles Wallace might be considered the most courageous Murry. Encourage students to compare and contrast his courageous journey in
A Wind in the Door
to his adventures in
A Swiftly Tilting Planet
.
The Murry twins, Sandy and Dennys, take their first time-travel adventure in Many Waters. As the "practical" members of the family, they are very frightened throughout most of their trip. Ask students to discuss whether it takes courage to be "practical" and "ordinary" in a family like the Murrys. How might being "practical" and "ordinary" cause anyone to be frightened upon entering a new experience? Do the twins become more courageous by the end of the novel?
Dealing with Giftedness
Charles Wallace realizes that he is different. While he is intellectually gifted, he lacks the physical ability to do things like the other boys in his class. Ask students to brainstorm characteristics of an intellectually gifted child. Make a chart for each of the Murry children and Calvin O'Keefe and cite evidence from the novels that indicates that each child might be considered gifted.
Family and Relationships
Have students study the Murry-O'Keefe family tree which can be found in the back of any of the 35th anniversary commemorative editions. Ask each student to select one person from the tree and design a page about that person's life and adventures to be included in a Murry-O'Keefe family scrapbook. Compile the pages and bind it.
Interdisciplinary Connections Language Arts
In
A Wrinkle in Time
, Mrs. Whatsit compares life to a sonnet (p. 179) as a means to explain the concept of freedom within a structure of constraints or rules. Ask for a volunteer to look up a more complete description of this poetic form and explain it to the class. Have each student select a character in the book and write a poem that this character might write to another character in the book.
L'Engle's time-travel adventure novels do not fit neatly into a literary classification such as science fiction or fantasy. Ask students to refer to the questions asked in the pre-reading activity and decide how they would classify these novels.
Invite students to write a diary entry that Sandy or Dennys might have written on the night of their return home in
Many Waters
.
Mythology
Ask students to discuss how mythology is appropriate for study in literature and social studies. Have them make a list of the mythological beasts that the Murry children encounter in their travels (for example, unicorns, manticores, dragons). Make a picture dictionary entitled "Mythological Characters in Madeleine L'Engle's Time Quartet."
Social Studies
In Europe, dragons are portrayed as ferocious beasts. In Asia, they are considered friendly. How are Charles Wallace's dragons portrayed in
A Wind in the Door
? Ask students to find stories about dragons from different parts of the world and share the various ways the dragons are portrayed. What do these stories reveal about the different cultures of the world?
In
A Swiftly Tilting Planet
, the dictator Madog Branzillo is threatening to destroy the world. Through Charles Wallace's travels, good overtakes evil and the world is saved. Identify the major issues facing our nation regarding civil defense and nuclear warfare. Why should these issues be discussed in both science and social studies?
Science
In
A Wind in the Door,
Dr. Louise, the Murry family physician, remembers when astronauts first went to the moon. Ask students to research John Glenn's first trip into outer space. Then, locate current events about his second trip into space. What do scientists and physicians expect to learn from his return trip?
In
Many Waters
, Alarid says to Dennys that the air and water on Earth have been "soiled." Encourage students to identify the most serious problems with pollution in their city or town. Ask them to write an editorial for the newspaper suggesting ways to preserve clean air and water.
Math/Science
The concepts underlying
A Wrinkle in Time
are based on Einstein's theory of relativity and Planck's quantum theory. Have a math or science teacher explain these theories to the class. Then have students discuss how these theories work in
A Wrinkle in Time
.
Art
L'Engle's vivid descriptions make reading her time-travel novels a highly visual experience. Artistically inclined students may want to create a series of paintings or drawings that illustrate creatures and places from these novels.
Unicorns are the subject of many art works from ancient and medieval times. Among the most famous is a tapestry called "The Hunt of the Unicorn." Send students to the media center or library to find out the origin of this tapestry. In what museum would Charles Wallace find this work of art? Ask students to write a letter that Charles Wallace might write to Meg describing his experience of viewing this particular tapestry.
Use of Language
Often fantasy has a unique language. Ask students to record such unique words as they read L'Engle's time-travel novels. They may wish to make a glossary for each novel.
Culminating Activity

Madeleine L'Engle says, "Responding to fantasy, fairy tale, and myth is responding to one universal language." Discuss how these three genres of literature unite the cultures of the world, creating a universal language.
Teaching Ideas prepared by Elizabeth A. Poe, associate professor of English, Radford University, Radford, VA, and by Pat Scales, library media specialist, Greenville Middle School, Greenville, SC.
DISCUSSION AND WRITING
A word from the author. . .
Madeleine L'Engle reflects on the 35th anniversary of A Wrinkle in Time . . .
It is an indication that stories have a life of their own, and that they say different things to different people at different times.
In the Time novels, Meg and Polly ask some big questions. Many of us ask these questions as we're growing up, but we tend to let them go because there's so much else to do. I write the books I do because I'm still asking the questions. . . .
It's so exciting that it makes me want to write, to write about what goes on in the great macrocosm outside us, and in the equally great microcosm of the very small. So I send Meg to the outer galaxies and into the microcosm of mitochondria and farandolae, and send Meg and Charles Wallace and Polly into time past and time future. In each book the characters are living into the questions that we all have to live into. Some of these questions don't have finite answers, but the questions themselves are important. Don't stop asking, and don't let anybody tell you the questions aren't worth it. They are. And it's good to share them with people like Meg and Calvin and Charles Wallace and even Zachary.
If anybody invited you to go to a newly discovered galaxy, would you go? I would. It's a wonderful way to meet new and exciting people.
Story always tells us more than the mere words, and that is why we love to write it, and to read it.
AWARDS
Awards for
A Wrinkle in Time
:
A Newbery Medal Book
An ALA Notable Children's Book
Awards for
A Wind in the Door:
An IRA-CBC Children's Choice
Awards for
A Swiftly Tilting Planet
:
An IRA-CBC Children's Choice
REVIEWS
Reviews for
A Wrinkle in Time
:
"Has the general appearance of being science fiction, but it's not. There is a mystery, mysticism, an indefinable, brooding horror....[This book] is original, different, exciting."
-- Saturday Review
"Fascinating....It makes unusual demands on the imagination and consequently give great rewards."
-- The Horn Book
Reviews for
A Wind in the Door
:
"This is breathtaking entertainment."
--Starred, Library Journal
"Madeleine L'Engle mixes classical theology, contemporary family life, and futuristic science fiction to make a completely convincing tale that should put under its spell both readers familiar with the Murrys and those meeting them for the first time."
-- The New York Times Book Review
Reviews for
A Swiftly Tilting Planet
:
"Theme is L'Engle's greatest forte and once again she proves this with a compelling plot, rich in style, that vibrates with provocative thoughts on universal love, individual caring, and the need for joy in living."
--Starred, Booklist
"L'Engle's gifts are at their most impressive here."-- Publishers Weekly
Reviews for
Many Waters:
"A carefully wrought fable . . . this will be enjoyed for its suspense and humor as well as its other levels of meaning."
--Pointer, Kirkus Reviews
FURTHER READING
An Acceptable Time by Madeleine L'Engle[0-440-20814-9]
The Giver by Lois Lowry[0-440-21907-8]