Teacher's Guide: On My Honor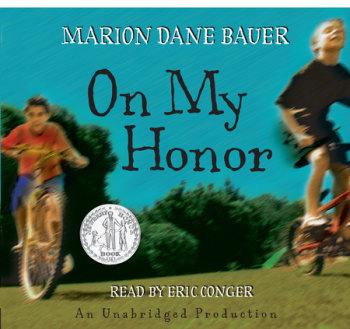 ABOUT THIS BOOK
Joel doesn't want to ride his bike with Tony to a remote state park to climb rock cliffs. He tries every trick to convince Tony that such an adventure is a bad idea. The truth is that Joel is afraid. Unable to dissuade his friend, Joel goes to his father for permission. Hoping he won't be allowed to go, he is dismayed when his father places him "on his honor" to be careful and sends the boys on their way. Joel becomes more frightened when, midway through the trip, Tony stops and suggests a different adventure--a swim in a rapidly moving river. Joel allows Tony to bully him into a swim that very quickly turns tragic when Tony disappears in the muddy waters. Remembering that he has been placed "on his honor," Joel has a difficult time confronting his parents and Tony's with the truth about the terrible event that he has witnessed. He soon learns, however, that one cannot escape truth and reality.
ABOUT THIS AUTHOR
Born
November 20, 1938, in Oglesby, Illinois
Education

B.A. in Language Arts and most of the work for an M.A. in English, University of Oklahoma
Currently lives

Eden Prairie, MN
Previous jobs

English teacher
Pets

One Sheltie and three cats
Favorite . . .
hobbies:
being outdoors--walking, biking, camping

foods:
oriental and middle eastern

clothes to wear:
sweat suits

colors:
they range from a ginger cat to an Irish setter
. . . books:
too many to name!
Inspiration for writing

Any strong feeling
TEACHING IDEASIn the Classroom
Using On My Honor in the ClassroomOn My Honor
is a realistic novel that offers a conflict with which many young readers can identify. Despite the brevity of the narrative (90 pages), this novel is well-suited for a study of plot development and character analysis. In addition to using this novel in the language arts curriculum, teachers will find this book valuable in other content areas such as science and geography. There are several themes for students to explore: friendship, parental relationships, honesty and honor, and dealing with grief. We hope that you will find this guide for
On My Honor
a useful tool in your classroom.
Suggested Classroom Activities
Pre-Reading Activity
The title of this novel is extremely significant. Before reading the book, ask students the following questions:
What do you think the title means?
What does it mean when someone swears "on my honor"?
Can you think of times when people might swear to do something on their honor? (i.e., taking an oath of office, making Girl Scout and Boy Scout pledges, etc.)
What does the illustration on the cover of the book suggest about the content of the story? Closely examine the faces of the two boys. How are they different? How are they similar?
Instruct students to record their responses to these questions in their reading journals. Have them refer back to their answers once they have completed the novel.
Thematic Connections
Friendship -- Though Joel and Tony have been lifelong friends, there are aspects of Tony's personality that anger and frustrate Joel. Even though he disagrees with Tony, Joel usually goes along rather than cause a fuss. Ask students to consider the predicament that Joel faces at the beginning of the story when he would prefer not to go with Tony to climb rocks. How could he have handled the situation differently? Why is Joel not more direct? Is Joel, then, responsible for Tony's death in some small way?
Family and Relationships (Parental) -- Joel tries to avoid the trip with Tony by asking for his father's permission. He hopes that his dad will say no; then he will be off the hook without looking cowardly in his friend's eyes. Discuss with students whether they think Joel was right to depend on his dad to get him out of the trip. Discuss Tony's relationship with his parents and how it compares with Joel's. Should Joel have told his father the entire truth about Tony's plans for the day? How do you think the accident will change Joel's relationship with his parents?
Honesty -- Have students read the following statements and mark their responses on the following scale: strongly disagree; disagree; agree; or strongly agree. Students should be prepared to defend their responses.
Joel is an honest person.
Joel is responsible for Tony's death.
Tony's parents will forgive Joel.
Death -- Psychologists believe that we go through stages of grief when someone we love dies. These stages include anger, denial, bargaining, depression, and acceptance. Have students examine Joel's behavior after Tony disappears in the river. Ask them to offer examples that Joel is passing through the various stages of the grieving process.
Interdisciplinary Connections
Language Arts -- The use of language elevates this book from a simple story to an eloquent work of literature. Bauer accomplishes this by using figurative language, especially simile and metaphor. Similes and metaphors may be likened to equations. For example, the simile "He laughs like a hyena" may be represented as: person's laugh = sound hyena makes. In order for simile and metaphor to be effective, though, students must understand both sides of the equation. See if your students can convert the similes and metaphors to equations:
"Tony was like a kid expecting Christmas . . ." (p. 10)
"The sun sizzled in a sky so blue it could have been created out of a paint can." (p. 11)
"The words reverberated through Joel's skull like a scream." (p. 43)
" . . . Joel snapped, pulling the anger around himself again like a cloak." (p. 63)
Science -- The Vermillion River is described in rather unflattering detail by Joel, who notes that it is quite polluted. Ask students what types of pollutants might be present in the river. How do these toxins come to be a part of the river water? What can be done to prevent further deterioration of a polluted aquatic environment? Students might be told to conduct a study of the water in bayous, lakes, rivers, and other aquatic environments in their communities.
Whirlpools, sinkholes, and currents are three of the dangers that Joel mentions in his attempt to keep Tony out of the river. What creates these features? Students might be placed into groups to study these features and to report on them to the rest of the class.
Geography -- Joel is hesitant to undertake the journey for several reasons. He is especially concerned about the arduous route they must take. Have students create a map of the route Joel and Tony intend to follow using the descriptions given by the boys in chapters 1 and 2. These maps may be flat or topographical (three-dimensional) in nature.
Teaching Ideas prepared by Teri S. Lesesne, Department of Library Science, Sam Houston State University, Huntsville, Texas
VOCABULARY
The vocabulary of this novel is deceptively simple. However, there are a few words that may be unfamiliar to some students. Ask students to set aside a section of their reader's notebook or reading log to record any new words or familiar words used in a new way. If students do not encounter any new words, they may be asked to record instead unusual words.
AWARDS
A Newbery Honor Book
An ALA Best Book for Young Adults
REVIEWS
* "A powerful, soul-stirring novel told simply and well." --Starred, Booklist
* "A gripping, compassionate portrayal of a boy's struggle with conscience...." --Pointer, Kirkus Reviews
"While there is death, there is also love, and Bauer's honest and gripping novel joins the ranks of such as Katherine Paterson's Bridge to Terabithia in its handling of these issues." --Publishers Weekly
FURTHER READING
Baby by Patricia MacLachlan[0-440-41145-9]
One-Eyed Cat by Paula Fox[0-440-46641-5]
Shiloh by Phyllis Reynolds Naylor[0-440-40752-4]