Teacher's Guide: Maggie's Door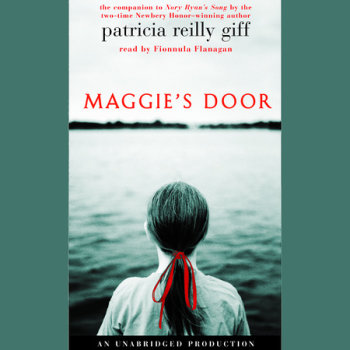 ABOUT THIS BOOK
Maggie's Door
, a companion to
Nory Ryan's Song
, is the story of the journey from Ireland to America told in alternating chapters by both Nory and her neighbor and friend Sean, two different stories with one destination—the home of Nory's sister Maggie, at 416 Smith Street, Brooklyn, America.
Nory has remained courageous and strong throughout the potato famine of the 1840s that has ravaged her native Ireland, and left her family penniless and hungry. She is left with the responsibility of caring for Patch, her younger brother, and Granda on the arduous journey to America. Nory and Sean unknowingly board the same ship to New York—Nory as a passenger in steerage with Patch and Granda, Sean as a cook's helper in the galley—and they do not meet up until late in the journey.
ABOUT THIS AUTHORPatricia Reilly Giff
is the author of many beloved books for children, including the Polk Street School books and the Polka Dot Private Eye books. Her novels for middle-grade readers include
The Gift of the Pirate Queen; Lily's Crossing,
a Newbery Honor Book and a
Boston Globe–Horn Book
Honor Book;
Nory Ryan's Song
, an ALA Notable Book and an ALA Best Book for Young Adults;
All the Way Home
; and
Pictures of Hollis Woods
, a Newbery Honor Book, an ALA Notable Book, an ALA Best Book for Young Adults, and winner of the Christopher Award. Her most recent novel is
Maggie's Door
, a companion to
Nory Ryan's Song.
Patricia Reilly Giff lives in Weston, Connecticut.
DISCUSSION AND WRITING
Courage—There are times when Nory almost loses her courage. How does the image of Anna's face give Nory the courage to continue her journey? Nory can almost hear Anna telling her to be strong and to fight back. Discuss how Nory is constantly "fighting back" throughout the novel. At what point in the novel does Nory display the greatest strength and courage? Discuss how Nory and Sean give each other courage.
Fear—Ask the class to discuss how the potato famine created an epidemic of fear throughout Ireland. Discuss how Nory deals with fear. How does she help Patch deal with his fears? Engage the class in a discussion about the kind of fear that Nory and Sean might experience once they are settled in Brooklyn. Discuss how the fears of immigrants today might be similar to the fears experienced by the Irish immigrants in the 1800s.
Survival—Nory and Sean have survived the potato famine, and now they must survive the long journey to America. At what point does it appear that Nory might fail in her goal to reach Maggie's door? Discuss the greatest threat to their survival on the ship. Nory uses Anna's cures to help the sick survive. Why does she blame herself for Granda's death? How do you know that Nory will always be a survivor?
Compare and contrast Nory's plight for survival in Maggie's Door to her struggle in
Nory Ryan's Song
.
Hope—Engage the class in a discussion about the relationship between hope, fear, and survival. How does Mrs. Mallon give up hope? How are Anna's hopes expressed through Nory? The Irish immigrants had hope that their life would be better in America. Discuss how they expected their lives to be different. How are Nory's hopes satisfied in the end?
Belonging—There are many types of belonging expressed in the novel—belonging to a family, to friends, to a native country, and to an adopted country. Ask students to discuss passages in the novel that best represent these types of belonging. Discuss whether Granda could have ever belonged in America.
SUGGESTED ACTIVITIESLanguage Arts
—Granda told Nory and her siblings stories about selkies, half-seal and half-human creatures. Write and illustrate a picture book for Patch that preserves one of Granda's stories.
Ask students to read the following Irish blessing:
May the saddest day of your future be no worse
Than the happiest day of your past.

Sean tells Nory that he will someday buy a writing stick and silk paper. Write a letter that Sean might write to Father Harte, the parish priest who taught him English, telling him about the happiest day of his past and what he expects for his future in America.
Social Studies/Language Arts
—In 1882 Ellis Island became the processing center for all immigrants seeking entrance into the United States. Send students on a virtual field trip to the Ellis Island Museum (www.ellisisland.com). Ask them to find out why Ellis Island became known as the "Isle of Tears." Instruct students to write a short paper entitled "Ellis Island: An American Historic Treasure."
Science/Health
—The ship carrying Nory and other Irish immigrants is filthy, and many die of disease. The immigrants are instructed to wash themselves because a doctor will come aboard to examine them before they are allowed to leave the ship. Ask students to research the health regulations for immigrants in the 19th century at the time when Nory enters the United States. Find out health regulations for immigrants today and write a short pamphlet that details these health regulations. Include a paragraph at the beginning of the pamphlet that explains the importance of such regulations.

Art
—Discuss the phrase "home is where the heart is." Ask students to draw a poster that best defines this phrase from the Irish immigrant point of view.
Tell students that the leaves on the four-leaf clover represent
hope, faith, love,
and
luck
. Ask each student to make a large four-leaf clover and draw a scene from both
Maggie's Door
and
Nory Ryan's Song
that best symbolizes each leaf. How is the picture different for the two novels?
Drama
—Annie Moore, a 15-year-old Irish girl, came to America several years after Nory Ryan does in
Maggie's Door
, and was the first immigrant to pass through Ellis Island. Ask students to use books in the library or sites on the Internet to find out more about Annie Moore (www.irishaci.org/anniemoore.html). Then have them stage a dialogue between Nory and Annie.
Music
—In
Nory Ryan's Song,
Nory often sings to Patch, and they both find comfort in music. Have students create a songbook of Irish lullabies that Nory might take to America with her. They should also design an appropriate cover. Ask students to research popular American songs of the 1840s, and then select a song that Nory might add to her songbook upon arriving to America in
Maggie's Door.
VOCABULARY
The vocabulary in the novel isn't difficult, but students are likely to find some unfamiliar words. Ask them to jot down words that they don't know, and ask them to try to define them using clues from the context of the story. Such words may include:
boreen
(p. 9),
dulse
(p. 13),
larder
(p. 27),
transports
(p. 30),
brack
(p. 37),
fester
(p. 38),
ballast
(p. 44),
grout
(p. 53), and
keening
(p. 122).
AWARDS
Educators nationwide adore two-time Newbery Honor winner Patricia Reilly Giff, a former teacher herself!
BEYOND THE BOOK
Internet Resources
Irish Immigrants
www.kinsella.org/history/histira.htm

This site offers the point of view of Americans to the influx of Irish immigrants in the 19th century.

Irish Immigrants
www.ops.org/north/curriculum/socstudies/
EthnicB2/past/Irish.htm

This site provides a map and a discussion on the Irish immigrant population in the United States in 1870.

Potato Blight
www.cavannet.ie/nature/spuds.htm

This site explains blight and what happened to the Irish potato crop in 1841.
OTHER TITLES OF INTERESTNory Ryan's Song *

Patricia Reilly Giff
1840s Ireland • Family • Belonging
Fear • Courage • Hope
Grades 4–7 / 0-440-41829-1
HC: 0-385-32141-4
Dell Yearling / Delacorte Press
Pictures of Hollis Woods *

Patricia Reilly Giff
Family • Belonging
Courage • Hope
Grades 4–7 / HC: 0-385-32655-6
GLB: 0-385-90070-8
Wendy Lamb Books hardcover
Lily's Crossing *

Patricia Reilly Giff
World War II Homefront • Family
Belonging • Fear • Hope
Grades 4–7 / 0-440-41453-9
HC: 0-385-32142-2
Dell Yearling / Delacorte Press
Belle Prater's Boy
*
Ruth White
Family • Belonging
Grades 5–7 / 0-440-41372-9
Dell Yearling
*
= Listening Library Audiobook Available
HC = Hardcover
GLB = Gibraltar Library Binding
COPYRIGHT
Prepared by Pat Scales, Director of Library Services, South Carolina Governor's School for the Arts and Humanities, Greenville, SC.
Random House Children's Books • School and Library Marketing • 1745 Broadway • New York, NY 10019 • BN581 • 8/03