Teacher's Guide: Lily's Crossing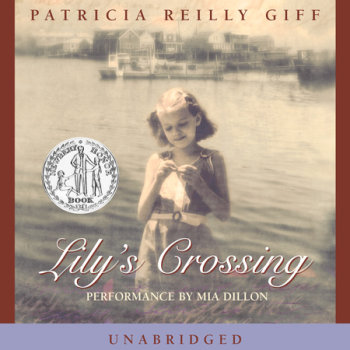 NOTE TO TEACHERS
Lily's Crossing was about my childhood. I was inspired to write that because for years, I thought about my childhood during the Second World War, in Rockaway, New York, which I loved. We didn't sleep in Rockaway, we didn't have a cabin there, but we went there almost every day in the summertime. I loved the water. I was clumsy out of the water, but in the water, I could swim. I was good around boats, so I always felt good about it. So I thought one day that I would write Lily, and it took me about four years to finally do it.
The book is fiction, but it's based on so much that I did do. I am Lily; I am the grandmother. The bakery really existed, but it was in St. Albans, where I grew up. And Albert is a composite of many boys in my life when I was growing up.
Certainly, we went to the bakery alone--and during the war, when the baker couldn't get eggs or sugar, the offerings were pretty slim in the bakery. There were signs up, like "loose lips sink ships." It was wartime and when I went to bed at night, I'd look out the window and see the search lights and always worry that the German planes were coming. I was afraid a lot, and so the time period is real, the story is fiction, but the setting, the background, is true.
When my sister, Anne, was born, my mother put stars up on her bedroom ceiling, over the windows, and they were beautiful. Eventually, they dried a little in the back and once in a while, a star would float down from my sister's ceiling onto the bed or onto the floor and we called them "falling stars," we thought they were magic. So, putting the stars on the ceiling reminded me of my childhood, my sister's childhood of that time, during the Second World War.
Patricia Reilly Giff acceptance speech--Boston Globe-Horn Book honor

I am so grateful to you for giving Lily's Crossing this honor. It was such a special book for me to write--more difficult, more personal than any I had done before. And I'm so grateful to Craig Virden, my publisher at Bantam Doubleday Dell, who told me for years to write a serious book. Most of my writing has to do with my students--so many of them with terrible problems, so many angry and rejecting friendship--that often I see them in front of my desk and I try to make them laugh.
But this time I wanted to tell them a story of the years when I was growing up. A fiction, of course, but echoing the background of my own life. I worked on the book for four years in bits and pieces, closing my eyes remembering the music: Mares Eat Oats, I'll Be Seeing You, The Last Time I Saw Paris.
I remembered the summer of '44--the invasion, the army stalled in the rain at Normandy, and the sweep across France--and my father reading to us about the resistance plan that flew over Notre Dame dropping the leaflets: Tomorrow We Come. And I certainly remember the postman calling across the street telling us that Paris was free.
But what I wanted tell today's readers was how hard that time was, how afraid a girl like Lily would have been watching the searchlights zigzag across the sky, how separated so may families were, but that friendship really kept everyone going--and if you reach out to someone it makes a difference. And so I thank you for this affirmation of Lily, this lovely honor. You make me want to go home this minute and write another book.
ABOUT THIS BOOK
Lily learns that true friendship is a treasure that crosses cultural boundaries, in this award-winning novel set during World War II on the home front.
Lily Mollahan can't wait to get to Rockaway, the coastal town where she and her father and grandmother spend each summer. Little does she know that the summer of 1944 will be marked by change. Her father goes to war; her best friend, Margaret, moves to Detroit; and she meets Albert, a Hungarian refugee.
As Lily and Albert become friends, they begin sharing their fears, their secrets, and their wishes. More than anything, Lily wants her father home safely, and Albert wishes to be reunited with his sister, Ruth. Through her friendship with Albert, Lily starts to see life differently and pledges to stop her worst habit--lying.
ABOUT THIS AUTHOR
"I always start each day by writing. That's like breathing to me," says Patricia Reilly Giff. In fact, this best-selling author admits she knew she "wanted to write from the first time I picked up a book and read. I thought it must be the most marvelous thing to make people dance across the pages."
Reading and writing have always been an important part of Giff's life. As a child, her favorite books included Little Women, The Secret Garden, the Black Stallion books, the Sue Barton books, and the Nancy Drew series. Giff loved reading so much that while they were growing up, her sister had to grab books out of her hands to get Giff to pay attention to her; later, Giff's three children often found themselves doing the same thing. As a reading teacher for twenty years, the educational consultant for Dell Yearling and Young Yearling books, an advisor and instructor to aspiring writers, and the author of more than 60 books for children, Giff has spent her entire life surrounded by books.
TEACHING IDEAS
Lily's Crossing is a story of friendship that will appeal to young readers for many reasons. Because it is set during World War II in the United States, students can grasp a full understanding of how the war affected people on the home front. It asks them to think about the meaning of family, dealing with guilt, separation and loss, the consequences of dishonesty, and the rewards of honesty.
The powerful themes, endearing characters, and the flavor of the 1940s setting make this book an ideal choice for read-aloud or a class novel study. In addition, this guide offers activities for using the novel to connect language arts, social studies, science, drama, and art.
Pre-Reading Activity
Lily's Crossing is set in 1944 just after D-Day. In 1994, the United States celebrated the 50th anniversary of D-Day. Send students to the library to find articles in news magazines about this celebration. Ask them to share with the class any unusual facts or moving stories that they uncover.
Thematic ConnectionsFriendship
Ask students to describe Lily and Margaret's friendship. How is Lily's friendship with Albert different? Why does Lily say that he is the best friend she ever had? Ask students to write a letter Lily might write to Poppy describing her new friend, Albert. At the end of the novel, Albert and Ruth are reunited, and Lily gets to meet Ruth. What do you think Albert has told Ruth about Lily?
Honesty/Dishonesty
Throughout the book, Lily makes a list of her problems and solutions to the problems. One of her worst problems is lying. She also has a vivid imagination. Discuss the difference between lying and imagining. Why does Lily continue to lie when she knows she's being dishonest? Have students list all the lies that Lily tells. How does one lie lead to another? In what other ways is Lily dishonest? At what point in the novel does she finally overcome her habit of lying?
Family
Both Lily and Albert have lost parents, but they still have the love of a family. Ask students to describe Lily's family. What is her relationship with Poppy? What is Gram's role in the family? How does Lily's relationship with Gram change at the end of the novel? How does Albert gain a sense of family from Mr. and Mrs. Orban?
Guilt
Lily feels guilty because she didn't tell her father good-bye. Albert feels guilty because he didn't tell Ruth good-bye. How does each of them deal with the guilt? Lily writes an "I'm sorry" letter to her father, but we don't know what she says in it. Ask students to write the letter that Lily sends.
Separation and Loss
Lily, Margaret, and Albert must face the loss and separation of family members. Ask students to compare and contrast the way each character deals with these feelings. How do Lily and Albert help Margaret deal with her loss? How do they help each other?
Interdisciplinary ConnectionsLanguage Arts
Lily is a good writer. Ask students to write a journal entry that she might write on the day her father leaves for the war. Lily's imagination is wild; she tells Margaret that her Aunt Celia is a U.S. spy in Germany, and imagines that Mr. Egan is a Nazi spy. Ask students to write a story that Lily might write about Aunt Celia or Mr. Egan.
Engage the class in a discussion about the meaning of the title Lily's Crossing.
Social Studies
During World War II, the U. S. government began rationing supplies. Ask students to find out what items were rationed. What was the purpose of a "Victory Garden"? Margaret's father goes to Detroit to make B-24 Liberator Bombers. What other jobs on the home front helped the war effort?
Encourage students to use reference sources and a map of Europe to trace the invasion of France by the Allies. Ask them to begin with the military's landing on Omaha Beach and follow their maneuvers through the small towns and cities that they liberated in France.
Math
Albert comes to Rockaway from Hungary via Austria, Switzerland, France and Canada. Ask students to calculate the approximate mileage over land and water of his trip. Have students call a travel agency and find out the flight time, including layovers, that Albert could expect if he were traveling today from Kennedy Airport in New York to Budapest, the capital of Hungary. How much would his flight cost?
Science
Lily feels close to her mother through the stars pasted on her bedroom ceiling. Each summer she brings one star with her to Rockaway. Why are the stars so important to her? Lily makes reference to the Big Dipper, Orion's Belt, and Cassiopeia. Ask students to research these constellations and draw a diagram of each. Some students may enjoy extending their research by locating other constellations that Lily might find in the summer skies at Rockaway.
Drama
Gram and Lily listen to "Portia Faces Life" on the radio. Divide the class into groups and ask each group to write a radio script for an episode of a show entitled "Lily Faces Life." Encourage each group to perform their script for the entire class.
Art
Mrs. Sherman has two war posters hanging in her shop. One says, "Loose Lips Sink Ships," and the other says, "Someone Talked." Ask each student to design a poster using one of these slogans.
Prepared by Pat Scales, Library Media Specialist, Greenville Middle School, Greenville, South Carolina.
VOCABULARY
Ask students to search for words in the novel such as convoy (76) that specifically pertain to the war. Then, ask them to locate words such as swell (116) and jetty (86) that refer to the coastal setting of the book. Have the class discuss the meaning of each word located.
AWARDS
A 1998 Newbery Honor Book
An ALA Notable Children's Book
A Boston Globe-Horn Book Honor Book
REVIEWS
* "Details. . .are woven with great effect into a realistic story..." -- Starred, The Horn Book
"With Ms. Giff's usual easygoing language and swift, short paragraphs, the impact of the war on an American child is brilliantly told." -- The New York Times Book Review
"Giff's well-drawn, believable characters and vivid prose style make this an excellent choice." -- School Library Journal
"[A] fine piece of historical fiction. . .fully satisfying." -- The Bulletin
"With wry comedy and intense feeling. . .Giff gets across a strong sense of what it was like on the home front during World War II. . .The friendship story is beautifully drawn. . ." -- Booklist
"[A] deftly told story." -- Kirkus Reviews
"Exceptional characterizations and a robust story line. . .Closely observed, quickly paced and warmly told, this has all the ingredients and best reward readers." -- Publishers Weekly
"Both evocative and provocative, this gentle novel presents the ripples of world war in a child-sized way." -- The San Francisco Examiner-Chronicle
FURTHER READING
Journey by Patricia Maclachlan[0-385-30427-7]
Number the Stars by Lois Lowry[0-440-22753-4]
Starring Sally J. Freedman as Herself by Judy Blume[0-440-48253-4]