Teacher's Guide: How I Live Now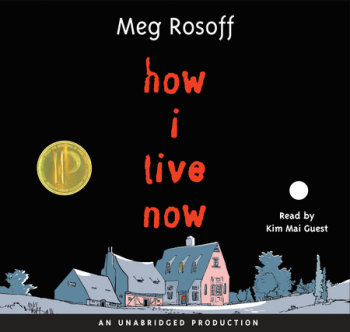 NOTE TO TEACHERS
War and terrorism are real. They're no longer
subjects limited to history books. Children and
young adults need only to listen to the nightly
news to realize the horrors of war. Whether the
news takes them to the Middle East, to New York,
to the subway systems of London and Madrid, or
to the stories of wounded or fallen soldiers, the
young are forced to deal with the threats and
effects of war in a different way than children of
the past. Mass media and the Web have changed
their lives forever. It is now impossible to protect
them from the fears connected with terrorism and
global conflict. Children were watching when the
Twin Towers went down. They are witnessing the
suicide bombers in and around Baghdad. They are
seeing the frightened citizens of war-torn regions
attempt to flea their burning villages. They are
noticing that war is dirty. It ruins lives, and it
leaves emotional scars that last a lifetime.
The books in this readers guide deal with war and
the threat of war, and the toll it takes on the young
adult main characters. Some are set in the present
and others in the near future. They all deal with
loss, fear, survival, courage, and hope. We hope
that these titles and this guide help you lead
important discussions in your classrooms.
ABOUT THIS BOOK
Fifteen-year-old Daisy leaves New York City to stay with her Aunt Penn's family on
a farm in England. Soon after Daisy arrives, Aunt Penn goes on a business trip and
is stranded abroad when England is invaded by terrorists. The cousins must fend
for themselves. Daisy and her cousin Edmond fall in love, but they're separated
when the military takes over the farm. Daisy and nine-year-old Piper are sent to
another town, and the boys elsewhere. The girls find themselves in a terrifying
world, but their desire to be reunited with their family gives them the courage they
need to survive the devastation of the war.
TEACHING IDEAS
Most of the novel focuses on Daisy's life in England, how she is affected by
war, and her eventual return to a life she chooses for herself. But, Daisy
does tell her readers that she was quite unhappy living with her father and
stepmother. She even alludes to suffering from an eating disorder. Write a
brief paper titled "How I Lived Then." Make the point that how Daisy lived
then shapes how she lives now.
AWARDSA Michael L. Printz Award Winner
An ALA Best Book for Young Adults
A Publishers Weekly Best Book
A Publishers Weekly Flying Start Author
A Booklist Editors' Choice
A Kirkus Reviews Editor's Choice
ABOUT THIS GUIDE
Prepared by Pat Scales, Director of Library Services, South Carolina Governor's School for Arts and Humanities, Greenville, SC.