Guest Post, Interview
Sharing the Library Love: 3 Questions with Kristen Sieh, Narrator of THE BORROWER
It's Library Card Sign-Up Month! In honor of libraries and her latest audiobook (starring a librarian character!), AudioFile Earphones Award-Winning narrator, Kristen Sieh, shares the library love and talks about recently recording THE BORROWER, the first novel from Pulitzer Prize Finalist and National Book Award Finalist, Rebecca Makkai. Booklist said in a starred review, "Makkai has written a splendid first novel that cleverly weaves telling references to children's books into her whimsically patchwork plot…Best of all, however, is Lucy's absolutely unshakable faith in the power of books to save." Now, check out Kristen Sieh's own thoughts about the power of books and libraries, before listening to a clip from this new recording of a beloved backlist title that just went on sale this July.
Do you have a favorite library memory?
Kristen: My sisters and I loved the library as kids. My older sister (who later got a degree in library science) was the big reader of the family, and I think watching her devour book after book with that total focus of hers inspired me to read more, too. Coming home with a new pile of books after a library visit was such a joyful feeling!
When I came to NYC for college, I quickly discovered the Lincoln Center Performing Arts Library. My small town library didn't have much in the way of plays, so the theater landscape totally opened up for me there. I would go once a month and check out a dozen plays I'd never heard of.
What did you love most about narrating THE BORROWER by Rebecca Makkai for audio?
Kristen: It's such a beautiful book. It's always such a pleasure when the relationships between characters are as well drawn as they are in THE BORROWER. I really loved the kid in particular. And exploring Russian accents was great fun too! It's always a delight to brush up on accents that I come across less frequently.

Do you want to give a shout-out to your own local library?
Kristen: Brooklyn Public Library!!! So much love. The location at Grand Army Plaza is one of my most favorite buildings in New York. It feels like walking into a temple.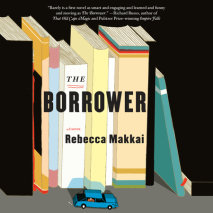 In this delightful, funny, and moving first novel, a librarian and a young boy obsessed with reading take to the road. Lucy Hull, a young children's librarian in Hannibal, Missouri, finds herself both a kidnapper and kidnapped when her favorite patron, ten- year-old Ian Drake, runs away from home.
Click here to view more audiobooks narrated by Kristen Sieh.