Collection Development, Interview, Video
Rainn Wilson Narrates THE PHANTOM TOLLBOOTH
The Phantom Tollbooth is a beloved classic—and now has two beloved voices on this new audiobook. Author Norton Juster reads the introduction and actor Rainn Wilson narrates the story making this a delightful production that listeners of all ages will enjoy!
AudioFile says: "Actor Rainn Wilson displays his vocal talents with an enchanting performance of this imaginative classic children's novel…One can easily imagine a family enjoying the story together at bedtime. This is a thoroughly clever tale enhanced by a gifted narrator."
Learn more about why Rainn Wilson was so excited to lend his voice to The Phantom Tollbooth:

Listen to a clip and discover more about this classic story: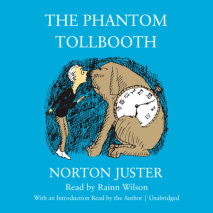 For Milo, everything's a bore. When a tollbooth mysteriously appears in his room, he drives through only because he's got nothing better to do. But on the other side, things seem different. Milo visits the Island of Conclusions (you get there by jumping), learns about time from a ticking watchdog named Tock, and even embarks on a quest to rescue Rhyme and Reason! Somewhere along the way, Milo realizes something astonishing. Life is far from dull. In fact, it's exciting beyond his wildest dreams. . . .
"How would the synonym-happy, word-loving residents of Dictionopolis describe Rainn Wilson's narration of this new audio version of Juster's classic allegorical fantasy romp (Knopf, 1961)? Superlative! Glorious! Marvelous! The sterling Wilson brings joy to his telling of this episodic tale of Milo…This first-rate production will please both fans revisiting this classic and those enjoying the story for the first time. Bravo! Well done! Encore!" —Booklist, starred review
"A classic… Humorous, full of warmth and real invention."
—The New Yorker
---
Looking for more classic audiobooks that all ages can enjoy? Browse our Beloved Classics collection!