Download This List For Excel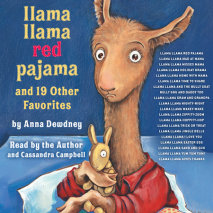 Nineteen favorites from Anna Dewdney's bestselling Llama Llama series, many narrated by the author herself, plus Nelly Gnu and Daddy Too. Look for the animated Llama Llama series on Netflix!Llama Llama Red PajamaLlama Llama Mad at MamaLlama Llama Mis...
List Price: $28
ISBN: 9780525632795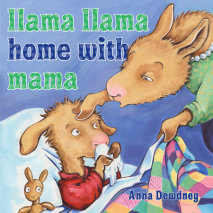 Llama Llama, morning light.Feeling yucky, just not right.Down to breakfast.Tiny sneeze.Sniffle, snuffle.Tissues, please!Ah-choo! Uh-oh, Llama Llama's nose is feeling tickly, his throat is feeling scratchy, and his head is feeling stuffy. Back to bed,...
List Price: $22
ISBN: 9781984828873
Drawing.  Reading.Building.Painting. These are things Nelly loves to do…but they're always better with Daddy Gnu! With fun-to-read rhyme, a little silliness, and a lot of warmth, Anna Dewdney—the creator of the ...
List Price: $22
ISBN: 9781984828897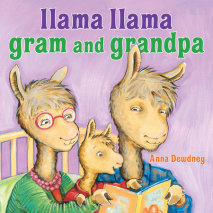 It's an exciting day for Llama Llama; he's going to visit Gram and Grandpa Llama and spend the night! His first night away from home….and from Mama. But he makes sure to pack everything he needs. And there are so many fun things to...
List Price: $22
ISBN: 9781984828910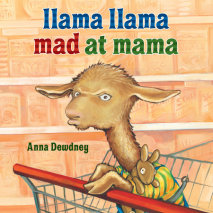 Yucky music, great big feet.Ladies smelling way too sweet.Look at knees and stand in line.Llama Llama starts to whine.  Does any child like to go shopping? Not Llama Llama! But Mama can't leave Llama at home, so off they go to Shop-O-...
List Price: $22
ISBN: 9780525594642
Llama, Llama red pajama waiting, waiting for his mama. Mama isn't coming yet. Baby Llama starts to fret.In this infectious rhyming picture book, Baby Llama turns bedtime into an all-out llama drama! Tucked into bed by his mama, Baby Llama immediately...
List Price: $22
ISBN: 9780525594666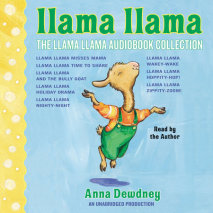 This audio collection includes: LLAMA LLAMA MISSES MAMA It's Llama Llama's first day of preschool! And Llama Llama's mama makes sure he's ready. They meet the teachers. See the other children. Look at all the books and games. ...
List Price: $22
ISBN: 9780451486448