Collection Development, In The Studio
Narrator News: Seth Rogen's YEARBOOK Audiobook is Narrated by 80+ Voices!
Beloved and prolific multihyphenate Seth Rogen leads a full cast of more than 80 narrators for the audiobook of his debut collection of hilarious and insightful personal essays, YEARBOOK, on sale now!
Alongside Rogen's narration, the audiobook's dialogue is read by a roster of special guests including Rogen's friends and family (hi, Mom!); fellow comedians like Nick Kroll, Jay Pharoah, Jason Segel, Dan Aykroyd, Ike Barinholtz, and Sacha Baron Cohen; and notable personalities who themselves cameo in the book, including Snoop Dogg, Billy Idol, and more.
This immersive production evokes Rogen's experiences growing up in Canada (including hanging out behind the 7-Eleven, which was as dangerous as a saloon in a Western movie), doing stand-up comedy as a teenager, moving to L.A. after being cast in Freaks and Geeks (a city where he would meet many of his heroes, and learn firsthand why that's inadvisable), and making movies (from Superbad to The Interview) like the ones he grew up loving, complete with sound effects. Along the way he muses on the importance of picking the best slow song to dance to at a bar mitzvah, and how falling in love and sh*tting your pants aren't mutually exclusive; recounts the time he and his friends had to be rescued from a Jewish Summer Camp Tiyul gone horribly wrong; and, he admits, tells "way more stories about doing drugs than my mother would like."
AUDIOBOOK CAST FOR SETH ROGEN'S YEARBOOK
Seth Rogen / Vikas Adam / Jason Alexander / MacLeod Andrews / Eric B. Anthony / James Anthony / Tom Antonellis / Brian Arens / Dan Aykroyd / Ike Barinholtz / Noah Bentley / Buzz Blackburn / Cassandra Campbell / Alan Carlson / Hannah Choi / Tommy Chong / Sacha Baron Cohen / Lise Coyle / Nick Damiani / Lauri Jo Daniels / Inés del Castillo / Sabina Demidovich / Giordan Diaz / James DiGiacomo / Snoop Dogg / Andrew Fetherolf / Dylan Frankel / Jono Freedrix / Elan Garfias / Lee Goettl / Evan Goldberg / Michel Gondry / Christopher Grove / Simon Helberg / Hillary Huber / Kyle Hunter / Billy Idol / Ray James / Lori Ada Jaroslow / Gregory Jones / Jim Kaplan / Vincent Kartheiser / Terrence Kidd / Ami Korn / Nick Kroll / David Krumholtz / Helen Laser / Raymond J. Lee / Darryl Lenox / Teri Linden / Eric Jason Martin / Katharine Lee McEwan / Miles Meili / Todd Menesses / Scott Miller / Raymond Ochoa / Gaye Pardo / Ronald Peet / Jay Pharoah / Mark Pooley / Will Reiser / Andrew Rich / Christopher Paul Richards / Danya Rogen / Lauren Miller Rogen / Mark Rogen / Sandy Rogen / Tara Sands / Paul Scheer / Samba Schutte / James Scofield / Wesley Scott / Jason Segel / Ariel Shaffir / Mike Shapiro / Rob Shapiro / James Sie / Martin Starr / Nick Thurston / Kiff VandenHeuvel / Byron Wagner / Paul-Mikél Williams / Mirron Willis
Listen to a clip and learn more about this laugh-out-loud collection of personal essays from one of the comedy greats: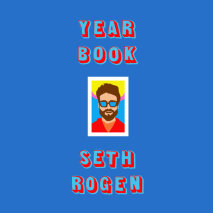 Laugh-out-loud funny and refreshingly, unflinchingly honest, YEARBOOK is more insightful than anything with this amount of drugs and profanity has any right to be.

Here's a short excerpt from my book about my experience during "The Interview!" pic.twitter.com/85xAZgN8ra

— Seth Rogen (@Sethrogen) May 12, 2021