Guest Post
Narrator Allyson Ryan on why THE KIDS ARE IN BED is "crucial!"
Audiobook narrator—and mom— Allyson Ryan joins us on the BOT blog to tell us about her latest project, and why it was such a gift!
Rachel's Bertsche's book, The Kids are In Bed, Finding Time for Yourself in the Chaos of Parenting is, in a word, crucial. Rachel gives parents a clear guide on how to approach self care (she calls this precious time "Pockets of Indulgence"), and demonstrates its importance by quoting social and scientific studies. This helps to remedy the predictable guilt parents feel, especially moms, when taking time away from your children to do something for yourself. But here's the thing Rachel tells us: IT MAKES YOU A BETTER PARENT.
As a mother to a 3 year old, there is rarely time for self care but also, there is never time to read or listen to books, so what a gift this was to get to read this one as my work! I strongly related to Rachel's stories of navigating the ins and outs of raising healthy, well-adjusted children in this modern age. Where it used to take a village, that village is now oftentimes two people with full time jobs. If you're lucky, family or close friends live nearby to share the load but for most or us, that's not a reality. I know for myself that it is very easy to lose your identity in the world of parenting, and to never feel like there's a break. What's remarkable about this book is that it helps you to remember what it is about you that makes you YOU, and to connect back to what you did for fun before kids. Never again will you be caught wondering what to do with an unexpected afternoon of alone time. The best part is feeling good about prioritizing yourself, and remembering that we are full and complete people, even as we take care of small humans. Nurturing yourself is necessary, not a luxury. First thing I did when we finished recording? I got a massage!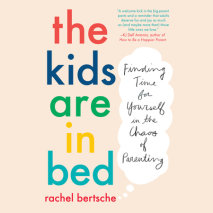 "Honest and funny, this feels like a much-needed conversation with a good friend, which is always worth the time."—Booklist