Collection Development, Featured Titles, Interview
Meet the Cast of MAX AND THE MIDKNIGHTS
There's a new adventure from the New York Times bestselling author of the Big Nate series: Max and the Midknights. It's an illustrated novel, peppered with graphic novel panels throughout, so the audiobook production was exciting to adapt and create. 
It's truly a must-listen experience that your patrons and students who are graphic novel fans will enjoy! Max's quest on audio features a full cast, music, and sound effects. An added bonus? It's such an engaging listening experience that even adults will have fun listening to it. Make sure it's included in your audiobook collection.
And, since it was such a unique transformation from an illustrated book to an audiobook, a few of our narrators were happy to share some tidbits with us about the recording experience. Take a peek behind-the-mic:
---
Meet Marc Thompson:
I play Uncle Budrick, and various other characters in the book. It was so much fun to do. Uncle Budrick is a traveling minstrel, who "spoiler alert" gets transformed into a goose. I can honestly say in all my years of voiceover,  I have never played a role like that. I got to sing badly, and honk like a goose!!! What more could you ask for in a role??!!
Recording this was much different than most audiobooks I record. This was a multi-cast production, so I got to record with Kristen in the booth. It was such a treat to have someone to play off of and interact with. It made the story come alive! Kristen is extremely talented, and she was a joy to work with. The only challenge was, we had to stand in the booth, and I guess I was wearing squeaky shoes that day. I kept inadvertently squeaking during takes. It got so bad we decided I should just take off my shoes. So while this audiobook will sound awesome, you should be grateful that it is not a smell-o-vision production.
I really loved the story's humor, and what it had to say. I wish I got to read something like this when I was young. I'm extremely happy that I got to be a part of this production.
Meet Kristen DiMercurio:
I play Max! She's a traditional hero character because she's brave, loyal, and has a heart of gold. But unlike some heroes, she's also very relatable and down to earth. One of my favorite things about her is how matter-of-fact she is. As she describes the world around her, she doesn't sugar-coat things or exaggerate. She just says what she sees or how she feels and that's that. I think the two things she likes most in the world are a sense of adventure and her being with her friends. Luckily in this book, she gets plenty of both!
Recording this book was a blast. My voiceover background is actually in audio drama and fiction podcasts, so this recording experience felt very familiar to me. I love getting to play off of a scene partner live. It feels collaborative, almost like doing a stage production. Recording with Marc in the booth (who plays Uncle Budrick) was like watching a masterclass in voice acting. That guy can do it all. In fact, the hardest part was not laughing out loud as he made up melodies to Uncle Budrick's songs. Recording a kids' book gives voice actors the opportunity to really "go for it" with their characters. We can get away with sounding more cartoonish, so there's a lot more room to play around. Marc really embraced that, which encouraged me to let loose and dive in 100% too. I walked out of that booth feeling like I'd just played pretend for a few hours, and I'd do it again in a heartbeat.
---
LISTEN TO A CLIP 

---
Meet January LaVoy:
I play Fendra in Max and the Midknights. Fendra is one of the world's greatest sorceresses who absolutely only uses her magic–which never, EVER fails her or backfires–to support what is right, and just and good. She would never, EVER use her magic to forward her own selfish or evil plans, nor would she ever give support to any other bad evil-doers, and did I mention how great and awesome she is at magic? (Also, she did not tell me what to say here; I'm totally using my own words that I thought of myself.)
Recording the book was a total blast. I got to spend part of my session sharing the booth with one of my favorite humans of New York, Michael Crouch, who plays Gastley. I don't want to give too much away, but there was one point where our characters were having a sort of "hysterical evil laugh" contest–which wasn't necessarily in the script–that made my whole year. I enjoyed my solo stuff, but that was definitely my *favorite* scene to record!
Meet Christopher Gebauer:
I play Kevyn in Max and the Midknights. Kevyn is the son of an Ostler, destined to look after the horses of others. But young Kevyn harbors a bit of a dream: that one day he might instead….make and write BOOKS. Having written the tale of his homeland Byjovia on a scroll, Kevyn has been taken by the power of prose, and hopes to one day capture the stories of adventures and knights on reams of paper….maybe even starting with a story of Max….
Recording this book was an absolute delight. It is very rare to record with another narrator, let alone in the same booth as another narrator. Being able to bounce lines directly off of another person brought a very fun energy to the process. Not to mention being able to do a bunch of the sound effect work throughout the story. This project ended up feeling more akin to a radio play than an audiobook, and it was a joy to be a part of it.
Meet Michael Crouch:
I play the dastardly King Gastley, who kidnaps Max's Uncle Budrick. A wickedly fun character to voice.
Unlike most audiobook sessions, which are done solo, I had the pleasure of sharing the booth with my colleague January LaVoy, who plays the evil sorceress Fendra. What a hoot! My favorite moment was when we erupted into a chorus of villainous laughter. These characters are zany and bold, so we had the freedom to run wild in the studio. In that way, it felt more like recording for animation than a typical audiobook.
---
A peek into Max and the Midknights' journey from page to audio with the producer, Nick Martorelli:
As soon as I read Max and the Midknights, I knew we could do something fun with the audio program. Lincoln incorporates comic panels and sound effects into his writing, so a full-cast program with sounds and music seemed the way to go. The first step was to convert the book into a script the actors would be able to perform. We then worked with Lincoln to write new jokes and dialogue to replace the illustrations we were losing in our transformation to audio. Once we had the script, we relied on our amazing cast to bring the scenes to life.
The program's director Scott Cresswell also did all the sound design, finding the sounds and music to help tell the story for listeners. Lincoln's sound effects are very funny, and wonderfully visual, so we embraced that direction and found that classic Looney Tunes-style [or "Chuck jones-style"] sounds were often the best ones to use. What's the sound of an apple falling off a tree and hitting someone in the head? A slide-whistle of course! When it came to some sounds, the more comical, the better. And when we didn't have the sounds of dragons, or gargoyles, or an epic sword fight, the music comes in to support the performance of our terrific cast.
Learn more about Max and the Midknights: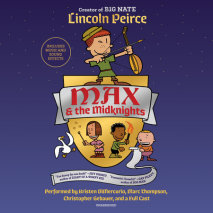 "Max is epic fun!" —Jeff Kinney, New York Times bestselling author of the Diary of a Wimpy Kid series
"Will entertain young and adult readers with adventure and humor." —Publishers Weekly
"Quick plotting and lots of funny medieval madcap antics…A knight's tale in shining armor." —Kirkus
Performed by Kristen DiMercurio as Max, Marc Thompson as Uncle Budrick, and Christopher Gebauer as Kevyn,
with Jessica Almasy as Millie, Fred Berman as Mumblin, Dan Bittner as Conrad, Michael Crouch as Gastley, Jonathan Davis as Gadabout, James Fouhey as Simon, Jim Frangione as Nolan, and January LaVoy as Fendra
Interested in more recordings featuring multiple narrators? Browse our Full Cast and Multi-Reader Productions collection for Kids and Teens!