Meet the Fierce Female Cast of Good Night Stories for Rebel Girls
Runaway bestsellers Good Night Stories for Rebel Girls and Good Night Stories for Rebel Girls 2 will be available on audio for the first time on June 19, 2018. Narrated by a star-studded fierce female cast, the audiobook brings together award-winning musicians, actresses, and outspoken advocates.
The notable ensemble of women includes:
Alicia Keys, GRAMMY® Award‒winning musician
Ashley Judd, Time's Up leader, EMMY® Award nominee
Danai Gurira, Tony Award®‒nominated playwright; Black Panther
Esperanza Spalding, GRAMMY® Award‒winning musician
Janeane Garofalo, actress, comedian, activist
Mozhan Marnò, House of Cards
Phillipa Soo, Tony Award® nominee, Broadway's Hamilton
Rowan Blanchard, A Wrinkle in Time
Samira Wiley, EMMY® Award nominee, The Handmaid's Tale
Additionally, the introduction is narrated by the book's authors, Francesca Cavallo and Elena Favilli.
Together the books include 200 bedtime stories about the lives of extraordinary women past and present, from Ruth Bader Ginsburg to Beyoncé, Gloria Steinem, and Malala Yousafzai. Each short biography is written in the style of a fairy tale and highlights painters, scientists, dancers, chefs, astronauts, jazz singers, pharaohs, boxers, writers, and political leaders from every corner of the globe.
"Our goal as writers and activists has always been to write stories that could give voice to extraordinary women who had been forgotten or belittled," said authors Cavallo and Favilli. "To see those same stories now come to life through the voices of some of the most inspiring rebel girls of our time could not feel more powerful."
Good Night Stories for Rebel Girls was the most successful publishing crowdfunding campaign in history. The second volume, Good Night Stories for Rebel Girls 2, launched in November 2017, features 100 new Rebels, all requested by fans. The print editions of both volumes are New York Times bestsellers (Volume 1 for more than 40 weeks), with more than 2 million copies sold worldwide.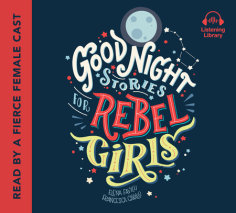 "Essential reading for girls and indeed boys; children who read this at bedtime are guaranteed some big and inspirational dreams." –The Guardian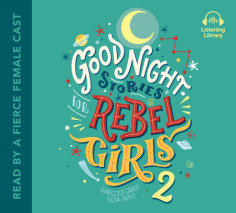 Good Night Stories For Rebel Girls 2 features 100 more bedtime stories inspired by the lives and adventures of extraordinary women, from Nefertiti to Beyonce.