Guest Post
Make Movies in Your Brain with Author Kathleen Glasgow
Kathleen Glasgow, author of the bestselling young adult book Girl in Pieces, returns to writing about teens dealing with hardship in  How to Make Friends with the Dark. In this novel, Tiger unexpectedly looses her mother, and her whole world shatters. How to Make Friends with the Dark explores love, loss, grief, and learning how to heal;
The story is read by award-winning narrator Jorjeana Marie, and Kathleen Glasgow is excited for listeners to experience the audiobook. She shares why audiobooks are such an excellent way to take in her written words:
---
I tend to write complicated girls carrying around a lot of pain. In Girl in Pieces, Charlie Davis is an orphaned self-harmer craving love and acceptance; in How to Make Friends with the Dark, Tiger Tolliver's mother dies suddenly, thrusting her into a world of foster care and soon, to a half-sister she didn't know existed.
When I write, I lose myself. I give whatever I have to the story of the girl on the page as she navigates her own impulses toward self-harm or tries to carry the unbearable weight of grief. I become lost in the town she lives in, the eccentricities of her friends, her relationship to music or books or art. It's an immersive experience right down to what her dead mother's favorite soap would be (oatmeal) and what it would feel like (gritty). It takes me a while to reach the heart of a story and often, it's because I've heard a song that suddenly nails it for me. For Girl in Pieces, it was "Kamera" by Wilco. For How to Make Friends with the Dark, it was "Sign of the Times" by Harry Styles. I listen to those songs over and over as I walk the dog, make dinner, in the car on the way to run errands or go to work. In essence, I've written my screenplay, set my scenes, and now I've found my soundtrack.
Writing a novel is basically making my own movie but in my brain, and except for one thing…
I don't have any actors. I mean, I listen to my characters in my head. I cry when I write them crying. I try to make them laugh at things I might find funny. I know how they should sound, how they should move, but they live in me, not beyond me.
And that's what I love about audiobooks. They absolutely, positively, amazingly bring a book to living life for you. The story and characters you have lived with as an author, for so long, are finally brought into the light. When you listen to an audiobook, the nuances of character and emotion become palpable and alive. Your characters live, breathe, feel, exist.
I'm extremely lucky to have Julia Whelan narrate Girl in Pieces. The first time I heard her voice as Charlie Davis, I had to stop the disc because the way she spoke Charlie's pain was so visceral and perfect. She got Charlie, and it hurt.  For How to Make Friends with the Dark, Jorjeana Marie brought the story of Tiger Tolliver (and her mother) to aching, perfect life. It can't be easy to live in the head of girl who sometimes speaks in the second person and has a "girl-bug" of grief that taunts her, but Jorjeana got Tiger.
I get lots of emails and letters from readers asking when my books might be made into movies and though that would be nice, sure (call me, Netflix!), I'm not holding my breath.
Because audiobooks are movies to me, only more intimate. You can pick up the story anytime you want and start fresh, or skip to the middle. You can have your popcorn and dinner in peace while you listen. And when something incredible happens, you can shout as loud as you want or cry as much as you want without anyone shushing you. You can walk the dog in an endless loop around the park while galaxies explode, girl-pirates save the world, broken girls learn to live, and motherless girls learn to survive, and no one is the wiser.
---
Learn more about Kathleen Glasgow's audiobooks: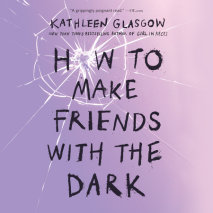 It's always been Tiger and her mother against the world. Then, on a day like any other, Tiger's mother dies. And now it's Tiger, alone.
"A rare and powerful novel, How to Make Friends with the Dark dives deep into the heart of grief and healing with honesty, empathy, and grace." —Karen M. McManus, New York Times bestselling author of One of Us Is Lying and Two Can Keep a Secret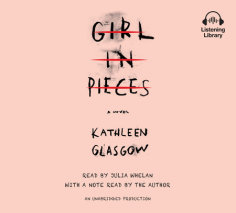 "Narrator Julia Whelan's initial portrayal of Charlie reveals her unwillingness to speak–as well as her pain, fear, and fury…Whelan's portrayals of minor characters aid the realism of the optimistic ending." —AudioFile, Earphone Award Winner

---