The Bunnicula Series
4 Results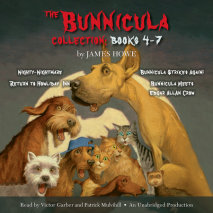 NIGHTY-NIGHTMARE: Are Harold, Howie, and Chester simply lost in the woods with Dawg, their strange new friend? Or have they been lured away from their campsite intentionally, leaving the Monroes at the mercy of evil spirits? Lulling Dawg to sleep wit...
List Price: $19.99
ISBN: 9780399564680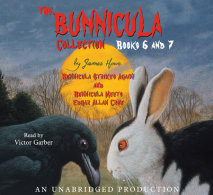 Bunnicula Strikes Again!It seems that Bunnicula, the vampire rabbit, is back to his old ways–or so Chester thinks, having found pale vegetables drained of their juices and scattered about the Monroe family kitchen. This time Chester decides to ...
List Price: $32.30
ISBN: 9780739373835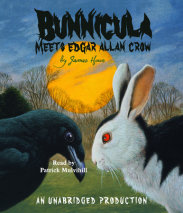 The Monroe house is going mad with excitement.   Pete has just won a contest, and the prize is a school visit from none other than M. T. Graves, Pete's idol and the bestselling author of the FleshCrawlers series. He's even going to s...
List Price: $25.50
ISBN: 9780739351628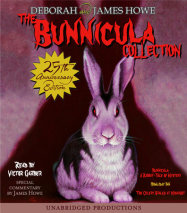 Bunnicula: A Rabbit-Tale of Mystery Beware the Hare! Is he or isn't he a vampire? Before it's too late, Harold the dog and Chester the cat must find out the truth about the newest pet in the Monroe household—a suspicious looking bun...
List Price: $38.25
ISBN: 9780739345061