A to Z Mysteries
7 Results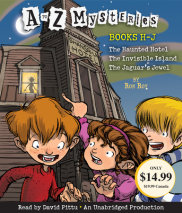 THE HAUNTED HOTELH Is for Haunted . . . A ghost has checked into the Shangri-la Hotel! It's almost Halloween, andreports of strange sounds and even stranger sights are coming from Green Lawn's only hotel.Every day, more and more guests ar...
List Price: $14.99
ISBN: 9780449010488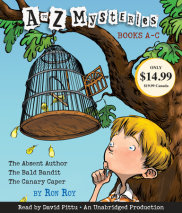 The Absent AuthorA is for author. . . Dink writes to his favorite author, mystery writer Wallis Wallace, and invites him to visit Green Lawn. To Dink's amazement, Wallace says he'll come! But when the big day arrives, Wallace is nowhere t...
List Price: $14.99
ISBN: 9780307916310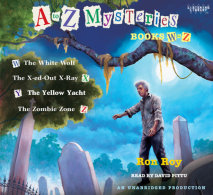 THE WHITE WOLFDink, Josh, and Ruth Rose are thrilled to visit Wallis Wallace at her new cabin in the Maine wilderness. On their very first day, they glimpse a white wolf and her babies on a cliff. But soon after the kids spy the wolf family, the pups...
List Price: $26
ISBN: 9780307915665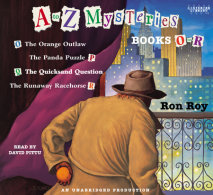 THE ORANGE OUTLAWDink, Josh, and Ruth Rose are visiting Dink's Uncle Warren in New York City when several paintings are stolen from his apartment building. Do the kids have enough clues to catch this crafty—and hungry—crook? THE PAN...
List Price: $33
ISBN: 9780307746344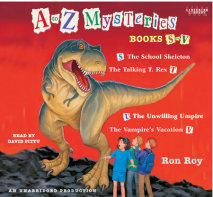 THE SCHOOL SKELETONSome sneaky soul has stolen the skeleton from the nurse's office! The principal promises free aquarium tickets to the savvy sleuths who can track down poor Mr. Bones. It's up to Dink, Josh, and Ruth Rose to follow the c...
List Price: $33
ISBN: 9780307746535
K is for Kidnapped! Someone has kidnapped the king and queen of Socotra. For safety's sake, their son is staying with Dink until they are safe. But then the prince is kidnapped, too! Can Dink, Josh, and Ruth Rose unmask the royals' enemies before it'...
List Price: $26
ISBN: 9780307738189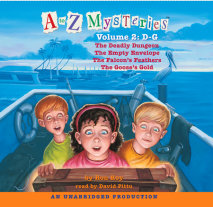 The Deadly DungeonDink's favorite mystery writer, Wallis Wallace, has invited Dink, Josh, and Ruth Rose for a sleepover—in a haunted castle! Will they discover who—or what—is haunting Moose Manor?The Empty EnvelopeDink keeps g...
List Price: $25.50
ISBN: 9780739360132