Lily Anderson on Formative Audiobooks
Lily Anderson is a school librarian and Melvil Dewey fangirl with an ever-growing collection of musical theater tattoos and Harry Potter ephemera. She lives in Northern California. She is also the author of THE ONLY THING WORSE THAN ME IS YOU and NOT NOW, NOT EVER. She tweets @ms_lilyanderson.
From the Disney Read Along books with the magic wand sound to note when to turn the page to my dad's collection of 1940s radio shows to the Audible app currently on my smartphone, there have always been audiobooks in my life. The moment I realized that I could take books on the go—wholly breaking the "don't walk and read" rule—I was obsessed.
Age 7: RAMONA QUIMBY series by Beverly Cleary (read by Stockard Channing)
I remember being pretty furious when my second grade teacher (hi, Mrs. Atallah!) read Ramona Quimby, Age 8 to my class because of the moment when Ramona pulls on a curly haired classmate's hair and shouts, "Boing!" My own classmates thought this was hilarious and tried it out on my hair! Thankfully, we read the rest of the Ramona series at a listening station with a big cassette player with multiple ports for our heavy headphones. The narrator was so familiar to me, but it wasn't the Ramona from the old TV show. It was Rizzo from my then favorite movie, Grease! I can't be the only person who imagined Ramona as a young Betty Rizzo, living on Klickitat Street! (How was I supposed to know the difference between Portland and Chicago? I'm from the Bay Area!)
Age 13: SABRIEL by Garth Nix (read by Tim Curry)
As an independent study student, I spent a lot of high school at the local library, supposedly studying but truly trying to try something from every section. After checking out every single musical theater cast album, I moved onto the audiobook section. Sabriel was my best friend's favorite book and even though I'd bought her a signed copy the previous Christmas, I'd never read it myself. Tim Curry playing a talking cat totally sold me. I spent hours walking around with my Discman balanced carefully on the flat of my hand to make sure that it wouldn't skip a single word of the story.
Age 18: HARRY POTTER AND THE SORCERER'S STONE by J.K. Rowling (read by Stephen Fry and never Jim Dale)
I drove myself to college, my long divorced parents sharing a very awkward U-Haul somewhere on the freeway behind me. It was the longest I'd been in the car by myself–four whole hours from Vacaville, California to Ashland, Oregon. I'd chosen Southern Oregon University because of my fond memories of childhood summers in the Rogue Valley. I read Harry Potter and the Sorcerer's Stone for the first time on a car ride ten years prior, on the same stretch of road, so it seemed fitting to go back to Hogwarts now. (When I dropped out of college and moved all of my stuff back down the mountain, I listened to Harry Potter and the Deathly Hallows. I'm nothing if not consistent.)
Age 22: THE IMPORTANCE OF BEING EARNEST by Oscar Wilde (performed by a full cast)
This was my first purchase from Audible, so long ago that I had to download it to my iPod (this is truly a series of stories about portable technology)! James Marsters–Spike from Buffy! Harry Dresden from the Dresden Files audiobooks!–plays Jack Worthing in this live recording of Oscar Wilde's masterpiece. I listened to this so many times that I ended up having the play totally memorized despite never having seen it live. It later became the inspiration for my sophomore novel, Not Now, Not Ever.
Age 25: CRESS by Marissa Meyer (read by Rebecca Soler)
As a school librarian, I read a lot of middle grade novels to keep up with my students. However, when I started working at a school that went from kindergarten to eighth grade, for the first time, I also had a reason to read YA novels at work! When The Lunar Chronicles came out, I read the school's copies of Cinder and Scarlet but was too eager for the third installment to share. I started listening to the audiobook so that I could read and shelve at the same time! This was my introduction to Rebecca Soler, without a doubt my favorite audiobook narrator. With her incredible talent, she made a story with dozens of characters feel like it was read by a whole cast. I don't know how many times I've listened to the whole series now, but Cress will always be my favorite.
Age 29: UNDEAD GIRL GANG by Lily Anderson (read by Rebecca Soler)
Undead Girl Gang is my third published novel but my first to go to audio. When Listening Library contacted me to discuss production, I mentioned that I already had my perfect narrator in mind—Rebecca Soler! I could not believe my luck when she automatically agreed to the role and hopped into the studio with my book. Rebecca herself contacted me to make sure that she got the voice for my main character, Mila, right since the story is told wholly from her perspective. When I told her that I imagined Mila sounding like Winona Ryder in the movie Heathers, she said she had imagined her the same way!
Rebecca truly does an incredible job with this book, bringing each character to life with so much warmth and heart that I ended up listening to the whole book! (Which was only minorly embarrassing when my roommate came home and found me cooking dinner and caught up in my own story!) I truly can't wait for readers to get a chance to listen.
Listen to an excerpt of Lily Anderson's UNDEAD GIRL GANG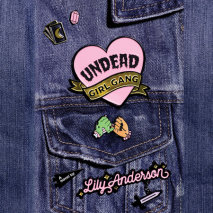 Veronica Mars meets The Craft when a teen girl investigates the suspicious deaths of three classmates and accidentally ends up bringing them back to life to form a hilariously unlikely–and unwilling–vigilante girl gang.
Praise for UNDEAD GIRL GANG:
"A compelling mystery, a grimly funny fantasy, and a genuinely touching story of friendship."—Booklist
"Mila's sardonic, darkly humorous narration drives much of this book…but Anderson also couples Mila's sarcasm with sincere grief, making an authentic picture of an outsider girl mourning the loss of her only friend." —BCCB