Awards & Recognition
June LibraryReads Make Great Listens! Celebrate Audiobook Month!
June is Audiobook Month and what better way to celebrate than by offering these delightful listens to patrons? As the recent Audio Publishers Association survey revealed, 50% of Americans have now listened to an audiobook. Readers who love print books love audiobooks, too, and use them to fit MORE reading into their day. So be sure to include audio in your LibraryReads displays!
From the #1 LibraryReads pick featuring the 2019 Audie Winner for Best Female Narrator of the Year, to a fresh new take on Pride and Prejudice, to a gin-filled NYC theater-themed romp read by a Tony Award Winner, these five titles are the perfect summer listens sure to please. Start celebrating now: listen to clips, check those holds—and tweet your favorites using #loveaudiobooks! View our full collection of LibraryReads available from BOT here.
EVVIE DRAKE STARTS OVER
By Linda Holmes
Read by Julia Whelan with a note read by the Author
LISTEN TO A CLIP: EVVIE DRAKE STARTS OVER
LibraryReads review: "Relationships are hard, whether with a spouse, a best friend, a new love interest, or ourselves. Evvie navigates all of these after a life-changing series of events. An engaging novel that explores relationship nuances without being too dark or too cutesy. For fans of Jenny Colgan, Cecilia Ahern, and Sophie Kinsella."—Maribeth Fisher, Scotch Plains Public Library, Scotch Plains, NJ
NoveList Read-alike: The Garden of Small Beginnings by Abbi Waxman
Why try the audio? Julia Whelan, the winner of the 2019 Audie Award for Female Narrator of the Year (for her narration of Educated) was Linda Holmes' enthusiastic first choice to read EVVIE. In fact, in true reporter fashion, Holmes traveled to Los Angeles to cover the audiobook recording—and also step behind the mic herself! (Check out the sweet tweets below!) ALA attendees are in for a treat—BOTH author Linda Holmes AND narrator Julia Whelan will be in attendance at the Annual Conference in Washington D.C.!
Praise for EVVIE DRAKE STARTS OVER: "A warm and funny book that will captivate fans of Abbi Waxman and Taylor Jenkins Reid."—Booklist, starred review
Tweet tweet! EVVIE DRAKE author and narrator give a glimpse behind-the-mic:
Listening to @lindaholmes read her book's acknowledgments and 😭😭😭

— Julia Whelan (@justjuliawhelan) April 23, 2019
A thing I absolutely, positively loved: reading my own acknowledgments for the audiobook. Being able to put my own little spin on the things I said to my nearest and dearest … it was a special thing to get to do.

— Linda Holmes (@lindaholmes) April 26, 2019
So! I am delighted that the reason I'm in L.A. is that today, I'm heading to the studio to observe as my great friend @justjuliawhelan, whom I got to know partly because I loved her as an audiobook narrator, gets to work recording EVVIE DRAKE STARTS OVER. This is a special day.

— Linda Holmes (@lindaholmes) April 22, 2019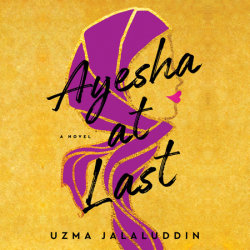 AYESHA AT LAST
By Uzma Jalaluddin
Read by Roshni Shukla
LISTEN TO A CLIP: AYESHA AT LAST
LibraryReads review: "Ayesha puts aside dreams of poetry and works in Toronto as a teacher to repay debts to her family. A deep-rooted family trauma ties Khalid to his controlling mother and gives him a rigid understanding of the world. Can these two young Muslims forge a healing path? A sweet modern romance perfect for readers of The Wedding Date and The Kiss Quotient."—Ariel Yang, Forest Grove City Library, Forest Grove, OR
Novelist Read-alike: The Matchmaker's List by Sonya Lalli
Why try the audio? BOT is thrilled to welcome a new narrator voice with Roshni Shukla, who was recently interviewed by NPR during the recording about diversity in audiobooks. (Story coming soon!) Listeners will love revisiting a romantic favorite in a fresh new way. Audiobooks enhance diverse stories with authentic and resonant interpretations of culturally specific language and dialogue.
Praise for AYESHA AT LAST: "This modern, Muslim update of Pride and Prejudice will have readers smiling as they recognize the clever ways debut novelist Jalaluddin incorporates Austen's words into her work."—Booklist, starred review
Also note Booklist's YA/General Interest alert: "Though the characters are mostly adults, romantically inclined teens will adore this #OwnVoices Austen update."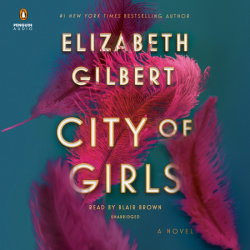 CITY OF GIRLS
By Elizabeth Gilbert
Read by Blair Brown
CLIP COMING SOON!
LibraryReads review: "Free-spirited Vivian recounts her life, focusing on her formative years in the 1940s. Nineteen and new to NYC, she became the costumer for her aunt's struggling theater company. Colorful characters, misadventures, triumphs, and trials populate this fun, frolicking read. For fans of The Seven Husbands of Evelyn Hugo."—Sonia Reppe, Stickney-Forest View Public Library, Stickney, IL
Why try the audio? Tony-Award winning narrator Blair Brown is known in the audiobook world for her impeccable preparation and ability to breeze through a recording with the ease of a true master storyteller. She is a joy to listen to on audio as she steps into the eclectic cast of characters Elizabeth Gilbert created. Brown personally loved this book so much, that she and her audiobook director May Wuthrich stepped back into the booth together immediately after they finished recording it to share a few thoughts with us about why it's the perfect book club listen! Stay tuned for that special behind-the-mic interview soon!
Praise for CITY OF GIRLS: "Reading CITY OF GIRLS is pure bliss, thanks to its spirited characters, crackling dialogue, rollicking yet affecting story lines, genuinely erotic scenes, and sexual intelligence, suspense, and incisive truths."—Booklist, starred review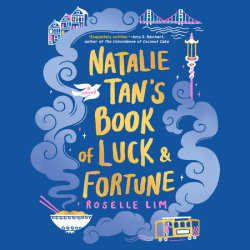 NATALIE TAN'S BOOK OF LUCK AND FORTUNE
By Roselle Lim
Read by Catherine Ho
LISTEN TO A CLIP: NATALIE TAN'S BOOK OF LUCK AND FORTUNE
LibraryReads review: "Natalie inherits her grandmother's restaurant in quickly-gentrifying Chinatown in San Francisco. A tea leaf reading tells Natalie she must cook three recipes from her Grandmother's cookbook for her neighbors who are being pushed out in order for the restaurant to succeed. For fans of The Recipe Club: A Tale of Food and Friendship and Like Water for Chocolate."—Meghan Marong, Lackawanna Public Library, Scranton, NY
Why try the audio? Patrons may be inspired to listen to this delicious listen while they cook! But no matter where they choose to take in this debut tale about their favorite takeout cuisine, listeners will be left hungry for more magic from this author and narrator. They can hear Catherine Ho on the new short story collection, Home Remedies, named one of the "Most Anticipated Books of 2019" by Nylon, Electric Literature, The Millions, and LitHub as well as an Elle Best Book of Spring!
Praise for NATALIE TAN'S BOOK OF LUCK AND FORTUNE: "This bighearted and deeply-felt story stirs together mourning, nostalgia, and the freedom of new possibilities."—Booklist
"Foodies and those who enjoy mother-daughter sagas will most appreciate."—Library Journal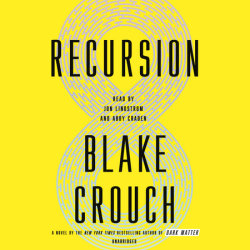 RECURSION
By Blake Crouch
Read by Abby Craden & Jon Lindstrom
LISTEN TO A CLIP: RECURSION
LibraryReads review: "Compelling and accessible to the non-science-fiction reader. It is a suspenseful, thought-provoking book about altered memories, and how technology can be used for good, or for ill, or should never be used at all. For fans of Michael Crichton."—Will Harbauer, Toledo Library, Toledo, OH
NoveList Read-alike: Hard-boiled Wonderland and the End of the World by Haruki Murakami
Why try the audio? Narrator Jon Lindstrom returns to the exciting world of Blake Crouch's imagination (after narrating Dark Matter), this time with Abby Craden to provide an alternate vocal perspective. Daytime soap veteran, Lindstrom, is a Daytime Emmy Best Actor nominee this year for his work on General Hospital. Fans won't want to miss hearing him bring this thoughtful thriller to life.
Praise for RECURSION: "Crouch fills his follow-up to Dark Matter with mind-bending science, mounting suspense, and some romance."—Booklist