Guest Post
Author Jill Santopolo on Why Narrating an Audiobook is "More Than Words"
Bestselling author Jill Santopolo returned to the recording studio for the second time and tells us all about the experience! Keep reading to hear how this author tackled accents and proper pronunciations—and be sure to check out an audio clip and her This is the Author podcast interview below!

By Jill Santopolo
I try not to read customer reviews of my books—it was a suggestion a writer friend made to me years ago, and I mostly try to stick with it. But somehow, when I was searching for something else on Amazon, I ended up on the page of the audiobook of my first novel, The Light We Lost, which I also narrated. And before I could click away, my eye caught a review. It said: I loved the narration, which made me especially happy. I had been a little concerned about doing the reading, since I'm not a professional audiobook narrator or actress, and that reassurance that a listener enjoyed my audio interpretation meant a lot to me.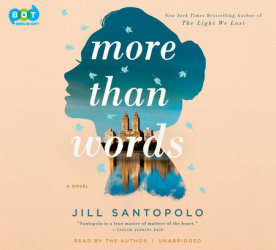 In fact, I thought a lot about it when the folks at PRH Audio asked me if I wanted to narrate my second novel, MORE THAN WORDS. "Well," I thought to myself, "if there was someone who thought I was decent enough at this recording business to say so on Amazon, maybe I should go ahead and do it again." Especially because I had so much fun doing the recording the first time.
MORE THAN WORDS is about Nina Gregory, who lives in New York City in the shadow of her successful hotelier father, who raised her as a single dad for most of her life. And she knows she's meant to follow in his footsteps and inherit his company when he's gone. But after he dies, she finds out secrets he's been keeping that change the way she sees her father, her childhood, herself…and even her relationship with her boss, the kind and brilliant Rafael O'Connor-Ruiz, who she seems to be attracted to, despite her attempts to the contrary.
Like in The Light We Lost, the main character of this book is female, so I figured it might make sense for me to narrate it. The trouble was, though, that in MORE THAN WORDS, I'd created two characters, both her boss Rafael and Nina herself, who spoke Spanish—one with a noted Cuban accent and one with a noted Castilian accent. Now, I can speak Spanish a little bit—I studied it from middle school through college and was part of an exchange program that meant I spent three weeks in Madrid in high school—but I for sure am not fluent, and my Spanish accent mostly sounds like someone who grew up in New York trying her hardest not to sound like someone who grew up in New York. And I knew I'd have Spanish-speaking listeners who would be able to note the difference; I didn't want the audiobook to feel inauthentic to them. I wanted to be true to the listener whose native tongue I was trying to convey, just as I did while I was writing the book, doing research to make sure that the characters themselves felt authentic.
But I realized that voice actors learn accents all the time. In The Light We Lost, I did my best at trying to put on a British accent as one of the characters, and an Israeli-accent as a few others. So if I could do that in English, perhaps I could do it in Spanish, too.
In the weeks before my recording date, I watched tons of YouTube videos of people explaining different Spanish accents and speaking in different accents. I sat in my living room pausing the videos and trying to sound the way they did. And then I practiced the Spanish lines in MORE THAN WORDS, hoping that I could get a bit of a Cuban vibe in the pronunciations (the Castilian vibe was a little easier for me). There was a line of Octavio Paz's Labertino de la soledad that I practiced over and over. I even called my friend whose mother is Cuban and she sent me a couple of voice notes for words I wasn't completely sure about and really wanted to get right like "palarecita" and "abuela" and "superheroe." I know a reading can change how people respond to a story, and I really wanted to do everything I could to pronounce the words the way I should.
When I got to the studio, I was so happy to find out that the sound engineer, Cat, was a native Spanish speaker, and she and the director, Scott Sherratt, and I decided—after they heard me attempt my practiced accents—that the Spanish should be a little more neutral, with only some words or letter changed up for the different characters, like the dental fricative in the "c" sound in "delicioso" or "gracias." I haven't heard the final recording yet, but I'm hoping that all my Spanish-speaking listeners will be able to pick up on the differentiations I made. I tried to craft my narration with the same care, sensitivity, and research I used when crafting the characters, and I hope it shows.

Listen to a clip:

Check out Jill's episode of our podcast, This is the Author:

Praise for MORE THAN WORDS:
"The latest from bestselling author Santopolo is a bittersweet and reflective novel of grief, loss, and coming into one's own. Fans of leisurely paced and character-driven novels will appreciate the time she spends developing Nina's voice and ensuring that it's heard."—Booklist
"Full of drama, scandal, and romance, this is sure to delight fans of Santopolo's The Light We Lost."—Kirkus
"This is a charming and sexy crowd-pleaser."—Publishers Weekly
Read about Jill's first experience behind the mic here.