Jeff Seymour: 5 Things I Love About my Audiobook
Jeff Seymour has been creating speculative fiction since he was a teenager. His writing covers genres from magical realism to science fiction to epic fantasy.In his day job as a freelance editor, Jeff helps shape and clean up stories for a talented roster of bestselling sci-fi and fantasy authors as well as newcomers to the business. In his free time, Jeff plays more video games than he should, pretends he knows anything about raising two energetic cats, and dreams.

Writing novels is a strange, imperfect sort of communication: I see a story about flying ships, talking plants, fire spirits, pirates, kidnapping, and unbelievable courage in my head. I put it into words. Then other people read those words, which creates a story in their heads. Most of the time, I don't see the end of that process—I know readers are contributing fantastic flourishes to my work; I just never find out what they are.
But occasionally the curtain gets peeled back—in the cover and interior art for the hardcover, and in the voice work for the audiobook. Listening to Hannah Jay narrate Nadya Skylung and the Cloudship Rescue is an absolute joy for me. In new and exciting ways, she breathes life into characters who've been running around my head for years. When she reads Nadya's narration, you really feel her emotions. When she hits the jokes, you laugh out loud. And she gives each character in the story, even the cloudbirds who only get one or two lines each, its own voice. It's a marvelous experience as a creator to hear someone perform your work like that. Here are a few of my favorite things:
The chills. It's hard to get chills reading your own writing—sort of like trying to tickle yourself. You know what's coming. But when Hannah reads the story I get the chills I try so hard to create, and it's a wonderful feeling.
The cloud frogs. This book has talking frogs in it, and Hannah's portrayal of them is absolutely hilarious. They make me laugh every time.
The flow. I spend ages working on the flow of the sentences in a novel, trying to make them easy and comfortable so they roll you seamlessly from one moment to the next. Hannah takes that framework and turns it into a dreamlike listening experience. I can relax and let the story unfold around me, which is so very different from writing it.
Pepper's voice. Nadya's best friend, Pepper, is one of my favorite characters, and Hannah brings her and her friendship with Nadya to brilliant, shining life. Listening to their banter never fails to make me smile.
Reading while walking. Nadya's world in the clouds is one of the most fantastical, fun, surprising things to ever grow out of my imagination. I love living there when I'm writing, and it feels so much more real to hear the descriptions as I walk under the sunny sky, with the wind in my hair and greenness all around, than it does to read them in my living room or office.
That's five things I love about the audiobook of Nadya Skylung and the Cloudship Rescue, but there's so much more there. I hope you'll discover it, and find yourself wandering a park near your home with your head in the clouds, unable to keep from smiling, just like me.

Listen to an excerpt of Nadya Skylung and the Cloudship Rescue by Jeff Seymour: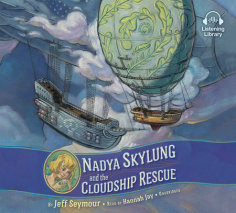 It takes a very special crew to keep the cloudship Orion running, and no one knows that better than Nadya Skylung, who tends the cloud garden that keeps the ship afloat. When the unthinkable happens and pirates attack, Nadya and the other children aboard–all orphans taken in by the kindhearted Captain Nic–narrowly escape, but the rest of the crew is captured. Alone and far from help, only Nadya and her four brave and loyal friends can take back the Orion and rescue the crew.
Praise for Nadya Skylung and the Cloudship Rescue
"This is a moving fantasy novel with strong world-building, intriguing characters, and touching themes about the meaning of family and sacrifice." —School Library Journal
"A brilliantly characterized debut. A stunning read that explores ideas of what bravery means though rich writing, vivid descriptions, and a strong voice. Readers will be eager to explore this breathtaking and dangerous steampunk world set in the sky." —Booklist