Guest Post
"I am a library goer." Kenneth C. Davis reflects on libraries, lockdown, and audiobooks
Kenneth C. Davis is the author of The New York Times bestselling DON'T KNOW MUCH ABOUT® HISTORY which gave rise to the DON'T KNOW MUCH ABOUT® series. He is also the author of the The New York Times bestseller AMERICA'S HIDDEN HISTORY. His newest audiobook, STRONGMAN, goes on sale October 6, 2020. Davis lives in New York with his wife.
"I am a library goer. As a small boy, I went to the Mount Vernon Public library with my mother every week. And I distinctly remember walking up those grand marble steps, as if I were going into a Greek temple. Even now, as an adult, I make it a point to go to the library practically every day— or at least I did until the pandemic brought a shutdown. My wife didn't know what I was going to do without my daily visits to the Jefferson Market library or the Hudson Park Library in my neighborhood of the West Village.
As the restrictions in New York City have lifted, I made two immediate outings—the first to the Hudson Park library to pick up books that had been on reserve for me since March.
The second real venture outside our apartment—for something other than groceries and a haircut—was: A trip to the recording studio!
For me, recording a section of my books for audio has been a tradition — and a highlight— of preparing for the release of a new book. Going back to my first book with then Random House—Don't Know Much About History— I have enjoyed the experience, though nervous-making, of performing a section of a book, even a small one. As a writer, I like to think that I am having a conversation with the reader. Getting to record a section of my book makes that dialog —even if it is one-way— all the more real.
The process has come a long way since I first started doing it many years ago. But this time for my book STRONGMAN was definitely different. The protocols for being alone in a booth and reading the script, were exacting but reassuring. And when I was done with my piece of the reading, I was very happy —as always— to step aside for the wonderful professionals who bring my words to life. Books are vital. Books change lives. But libraries? Well, I can't say enough about what they mean to me and those readers who are also listeners." —Kenneth C. Davis
Learn more about Kenneth C. Davis's most recent audiobooks:
On Sale Oct 6, 2020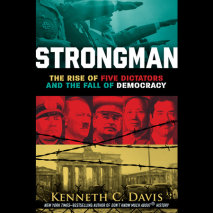 A dramatic account of the origins of democracy, the history of authoritarianism, and the reigns of five of history's deadliest dictators.
Early praise:
"A pitch-perfect balance of nuanced reflection and dire warning."—
Kirkus
, starred review
"Timely…Davis offers his readers a salutary opportunity to learn."—Booklist
The PRH Library Marketing Team chats about STRONGMAN in episode 14 of our
Morning Book Buzz
.
Check out the video archive!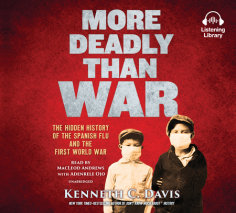 A timely listen for young people about the fascinating account of the Spanish influenza pandemic.
Audio praise:
"Marking the 100th anniversary of this global pandemic, Davis' gripping story outlines the initial outbreaks and spread of the killer disease, while Andrews' approachable, conversational narration invites listeners to draw up a comfortable chair and enter this bizarre and horrifying account along with him."—Booklist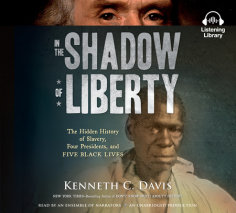 YALSA Award for Excellence in Non-Fiction Finalist
Through the powerful stories of five enslaved people who were "owned" by four of our greatest presidents, this audiobook helps set the record straight about the role slavery played in the founding of America.
Audio praise: "The eight narrators who give these characters their distinct voices respect their subjects while conveying the flavor of the late 1700s and early 1800s."— Booklist
"With a full cast of talented narrators, listeners hear the deep emotion in individual stories that emphasize the irony of the colonists seeking freedom while keeping others enslaved."—AudioFile