Featured Titles, Guest Post
STAR-CROSSED Author Minnie Darke on Listening While She Knits
If your patrons are clamoring for a sparkling and delightful summer listen then Star-Crossed, written by Minnie Darke and read by Melissa George, is exactly the title they're looking for. It's full of warmth, humor, and a whole lot of astrological fun.
This audiobook is also a great summer accessory: patrons can listen to it as they travel, cook, exercise, and hit the beach. Minnie Darke herself likes to knit while listening to audiobooks. Keep reading to find out why she thinks listening and knitting is a perfect pair and then hear a clip from Star-Crossed.
---
By Minnie Darke
When you knit and listen to audiobooks at the same time—which I do whenever I possibly can—a rather lovely and curious thing starts to happen. Through some magic of auditory processing, you find yourself knitting a story into your sweater, your scarf, or your socks.
I have a beloved Fair Isle sweater that I knitted while listening to George Eliot's Middlemarch, and now, whenever I slip that sweater over my head, I find myself getting a flash of the 1830s English countryside, and remembering the idealistic passions of Dorothea Brooke.
Last year, I started a pair of complicated fingering-weight gauntlets (heaps of shaping and delicate cables) at about the same time I began listening to Claire North's The First Fifteen Lives of Harry August. I knitted and ripped, knitted and ripped, knitted and ripped, until those gauntlets had nearly as many lives as Harry himself! I know that when this Australian winter comes around and I finally get to wear those hard-won gauntlets, they will carry with them an aura of North's fantastic time-travel novel.
These stories go on. There's a slouchy beanie that gives me flashes of Anne Boleyn's execution because I was knitting it when listening to the audiobook of Hilary Mantel's Bring Up the Bodies, and a lace cowl that conjures the unmistakable aura of Chloe Benjamin's beautiful novel The Immortalists.
I've become fairly sure that I listen to audiobooks better, or somehow more deeply, when I'm knitting at the same time. Doubtless someone could supply the science behind this phenomenon; perhaps it has something to do with the soothing alpha brain waves that are conjured by meditative activities.
When I was a child, I liked to tackle detailed coloring-in projects while sitting close to my dad's stereo speakers, listening to those 45 RPM vinyl records that came tucked in the back of Disney picture books. I'm sure this is why I can still recite parts of Snow White, Jungle Book, and Sleeping Beauty.
Later, when I got my first car and started to explore the world on my own, my audiobooks were the large plastic cases, stacked with six or seven cassette tapes, that were available for loan from our local library. There are parts of Tasmania, where I live, that are forever invested with particular stories—a bluff on the northwest coast is linked in my mind to Emily Brontë's Wuthering Heights, and the wild west coast of the island is my own personal version of Tolkien's Middle-earth.
I read as well as listening to audiobooks, of course. Sometimes I'll buy a book in both formats, so I can keep the story going when I'm not free to have my eyes on a physical book. I listen whenever I can—while driving, cooking, grocery shopping, folding laundry, ironing, walking the dog—but there's no doubt that knitting-and-listening is my favorite combination of activities.
Especially when winter comes, and I can enjoy my "library" of cowls, scarves, hats, gloves, and sweaters, I realize that knitting-and-listening is a special way of making stories last longer. It's a way of keeping stories present in my heart and mind, because I have knitted them—quite literally—into the fabric of myself.
---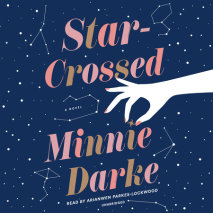 When childhood sweethearts Justine (Sagittarius and serious skeptic) and Nick (Aquarius and true believer) bump into each other as adults, a life-changing love affair seems inevitable. To Justine, anyway. Especially when she learns Nick is an astrological devotee, whose decisions are guided by the stars, and more specifically, by the horoscopes in his favorite magazine. The same magazine Justine happens to write for.
"Darke creates a world of stargazers whose destinies eventually collide….Funny and enticing." ―Library Journal
"This cleverly structured first outing from the pseudonymous Darke will appeal to fans of romantic comedy, astrology, and chaos. Utterly charming…" ―Booklist
"Swoon-worthy…a smart, sweet love story about friendship, destiny, and the power of choice." ―Bustle