Awards & Recognition
GRAMMY Awards 2019: Courtney B. Vance Nominated for ACCESSORY TO WAR
Courtney B. Vance has earned a Best Spoken Word Album GRAMMY Award® nomination for his narration of Accessory to War: The Unspoken Alliance Between Astrophysics and the Military by Neil deGrasse Tyson and Avis Lang. Congratulations to the entire Penguin Random House Audio production team!


The New York Times Book Review praised Vance's performance, saying the audiobook is "strongly and engagingly acted" and that he creates "a wonderful immersion in [the] extraordinary research."
LISTEN TO A CLIP FROM ACCESSORY TO WAR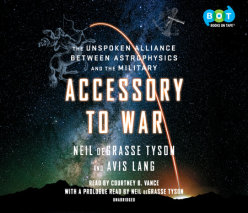 In this fascinating foray into the centuries-old relationship between science and military power, acclaimed astrophysicist Neil deGrasse Tyson and writer-researcher Avis Lang examine how the methods and tools of astrophysics have been enlisted in the service of war. Spanning early celestial navigation to satellite-enabled warfare, Accessory to War is a richly researched and provocative examination of the intersection of science, technology, industry, and power that will introduce Tyson's millions of fans to yet another dimension of how the universe has shaped our lives and our world.
Penguin Random House Audio titles have previously received 15 GRAMMY Awards®, including last year's Best Spoken Word Album winner, Carrie Fisher's The Princess Diarist, and 44 additional GRAMMY® nominations. Browse all of our GRAMMY nominated audiobooks here.
The 61st Annual GRAMMY Awards® will be presented Sunday, February 10, 2019 at the Staples Center in Los Angeles. Watch them on CBS at 8 p.m. ET/5 p.m. PT.