Collection Development, Featured Titles, In The Studio
Gone Girl star Rosamund Pike narrates Paula Hawkins' A SLOW FIRE BURNING audiobook
Big news! We are thrilled to announce that Golden Globe winner and star of Gone Girl, Rosamund Pike will read the audiobook edition of A SLOW FIRE BURNING, the third novel by Paula Hawkins, the bestselling author of The Girl on the Train.
A SLOW FIRE BURNING is a scorching new thriller, which tells the story of a series of characters caught up in a murder, all with something to hide and something to prove. Patrons will be fired up to listen—and may want to revisit Hawkins' previous audiobooks, too, so prepare for high holds!
Pike said: 'I love working on audiobooks when the characters are as rich and vivid as Paula's.
I remember David Suchet's audiobooks of Poirot from when I was a child, and how they rescued long car journeys from tedium. I always vowed to give back for these hours of escape! Paula's latest novel is all set in Islington and it was wonderful to be able to tell a story of murder and intrigue set in this postcode, and bring to life damaged and mysterious characters who all inhabit streets I know so well. I love Paula's writing, full of wonderful observations on the way people behave, a beautiful sense of place, and a wonderful ear for dialogue."
Hawkins said: "Rosamund Pike is absolutely one of my favorite actresses—I was absolutely delighted when I heard she was going to read A Slow Fire Burning. Listening to Rosamund read my words has been a great thrill."
Rosamund Pike is celebrated internationally for her work on stage and screen, including her film debut as Bond girl Miranda Frost in Die Another Day (2002), her Oscar-nominated role as Amy Elliott Dunne in Gillian Flynn's Gone Girl (2014), and most recently her Golden Globe-winning performance in I Care a Lot (2020).
Coming August 31st to audio (CD and download) and large print: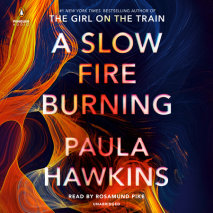 A LibraryReads Pick!
"Packed with OMG moments, this novel may be slow burning, but it's a scorcher nonetheless."—Booklist, starred review
Also by Paula Hawkins: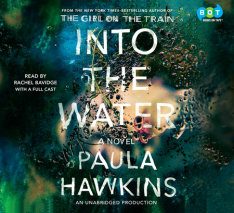 "Five narrators tell the story from the points of view of more than 15 characters…weaves a curious mystery that listeners will find intriguing."—AudioFile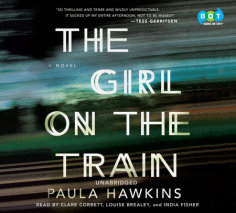 Audie Award Winner: Audiobook of the Year 2016
"Narrators Clare Corbett, Louise Brealey, and India Fisher give outstanding performances."—
Library Journal
, starred review
"The surprise-packed narratives hurtle toward a stunning climax, horrifying as a train wreck and just as riveting."—Publishers Weekly, starred review
"Top-notch narration makes this perfect for audio."—AudioFile Earphones Award