Collection Development
Seriously Funny Series for Kids (and Author VIDEOS!)
Keep patrons smiling from ear to ear with these seriously funny series. Plus, find some fun videos featuring hilarious authors.

FRANK EINSTEIN series by Jon Scieszka, read by Jon Scieszka and Brian Biggs
Jon Scieszka has created a unique world of adventure and science fiction—an irresistible chemical reaction for middle-grade listeners.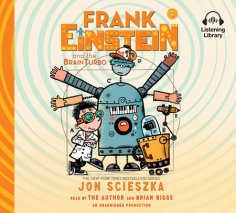 "Jon Scieszka and Brian Biggs narrate this third installment of a series that blends science and stories about Frank Einstein and his friends. Scieszka narrates in a clear voice full of enthusiasm as Frank learns about the human body in the hope of figuring out a way to improve his friend Janegoodall's pitching so she can get the starting spot on the baseball team."—AudioFile
More series audio praise:
"Hilarious characterizations by Scieszka and Biggs will have listeners laughing and rooting for Frank and his friends."—
Booklist
, starred review
"Entertaining and engaging."—School Library Journal
Coming this September: Frank Einstein and the EvoBlaster Belt
Join Jon in his lab as he chats about audio with a special guest:


FAMILY FLETCHER series by Dana Alison Levy, read by Dan Woren
Love the TV show
Modern Family
? Wait until you meet the family Fletcher! With two dads, four adopted brothers, two cats, and one pug, the Fletchers will have you laughing out loud!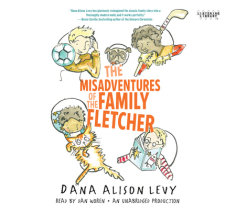 "Narrator Woren does an outstanding job pacing this humorous story, full of memorable scenes and dialogue. Funny events are even more chuckleworthy with Woren's spot-on comedic timing…This is a refreshing and welcome addition to every collection of realistic humorous stories."—Booklist, starred review
More series audio praise:
"Listening to these "misadventures" feels like eavesdropping on the little struggles and encouraging victories of your favorite neighbors."—Horn Book, starred review
"Dan Woren does an admirable job of switching between the harried dads and energetic boys. This is a great choice for libraries wanting to diversify their collections."—School Library Journal
Also a winner of an AudioFile Earphones Award
Coming this May: The Family Fletcher Takes Rock Island
"A must-have middle grade family story with contemporary sensibilities."—School Library Journal, starred review
Check out Dana Alison Levy as she joins fellow authors David Lubar and Lance Rubin on the "Humor in Writing for Kids" panel at our annual Penguin Random House Teacher Event:
MR. LEMONCELLO'S LIBRARY series by Chris Grabenstein, read by Jesse Bernstein
Charlie and the Chocolate Factory
meets
A Night in the Museum
in this action-packed audiobook series.
More series audio praise:
"Librarians will fall in love with Mr. Lemoncello's library. This title is filled to the brim with witty literary references, an education on the Dewey Decimal System, and zany word puzzles. Narrator Jesse Bernstein expertly brings to life each character…"—School Library Journal
"[L]ibraries will no doubt want to purchase the audio as well."—Booklist
Chris Grabenstein in the recording studio:


Find more laugh-out-loud listening fun in our featured collection:
Humor in Writing for Kids