Guest Post
FOUR DEAD QUEENS Author Astrid Scholte on The Power of Storytelling
Debut author Astrid Scholte's novel Four Dead Queens is a thrilling young adult fantasy everyone's buzzing about.
Publishers Weekly says, "Scholte has created an intrigue-heavy adventure in a world filled with characters whom readers will want to revisit." Those characters come to life in the audiobook thanks to the deft voices of the Four Dead Queens' two narrators: Amy Shiels and Elizabeth Knowelden. It's a lively way to experience the story.
In fact, Astrid Scholte agrees. She shared with us her thoughts on how important and entertaining listening to audiobooks can be.
---
We all love being told a story, whether it's from our friends, our family, or someone we admire. We're captivated by tales of the everyday, far-off places, or forgotten times. Being told a story sparks our imagination and allows us to experience a different life, if only for a moment.
As a child, bedtime was my favorite time of day, as not only did I love dreaming—a different kind of storytelling—but I looked forward to my mum reading to me. I would curl into the blankets and listen as her words washed over me, transporting me to another time and place. I would see images dance in my head, images that would linger long into sleep.
When I was told I needed to start reading for myself, I mourned the loss of this reading time. While I enjoyed reading alone, it wasn't the same experience. It wasn't as reassuring or as relaxing. And I missed that extra time with my mum. But I managed to convince her to read to me for a little while longer, reading all the Baby-Sitters Little Sister books.
One vivid memory I have of my mum reading to me was a story about a sick cat. After the book, I told my mum there was a tightness in my chest and throat, and she explained that I was sad because of the story. That was the first time I'd experienced the power of the written and spoken word to move me to tears.
Eventually, I let my mom off the hook and began reading to myself in the evenings, and to this day, it's one of my most treasured activities.
A few years ago, I developed some health concerns and I was unable to read or write. It was a devastating blow, as stories were my passion and creative outlet. It was during this time that I rediscovered audiobooks, something I'd only previously listened to on childhood road trips with my family.
I bought numerous audiobooks, including Jurassic Park by Michael Crichton (my all-time favorite movie), The Mortal Instruments books by Cassandra Clare, and Never Let Me Go by Kazuo Ishiguro. When I rested my eyes, I could see the stories unfurl in my mind, taking me back to the time when my mum would read to me. It was reassuring that I could continue listening to stories during this tough time.
Audiobooks were my lifeline over the two years I couldn't read or write. The experience of listening to an audiobook harks back to our innate desire to be told stories via the spoken word. It's a simultaneously soothing and stimulating experience.
I am so excited that my debut YA fantasy, Four Dead Queens, will be an audiobook available through Listening Library, and I hope it will transport readers on a grand journey of murder, mayhem, and mystery!
---
About the author, Astrid Scholte:
Raised on a diet of Spielberg, Lucas, and Disney, Astrid knew she wanted to be surrounded by all things fantastical from a young age. She's spent the last ten years working in film, animation, and television as both an artist and manager. Career highlights include working on James Cameron's Avatar, Steven Spielberg's The Adventures of Tintin, and Happy Feet Two by George Miller. She's a visual writer and aims to capture the vivid stories that play like movies in her head. When she's not writing, she's painting her favorite fictional characters and obliging her furry overlords, Lilo and Mickey. Four Dead Queens is her debut novel.
Learn more about the audiobook: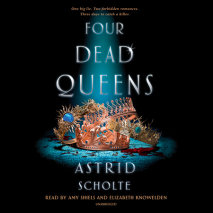 "Scholte's stand-alone debut marks her as an author to watch." —Kirkus
"Debut author Scholte manipulates multiple points of view and flashbacks to create an action-packed romance." —Booklist
"The story takes unexpected turns, has complicated characters who develop over time, and ends unpredictably….A recommended addition to young adult fantasy/dystopian collections." —School Library Journal

Seventeen-year-old Keralie Corrington is one of Quadara's most skilled thieves and a liar. Varin is an honest, upstanding citizen of Quadara's most enlightened region. When she steals a package from him, they find themselves entangled in a conspiracy that leaves all four of Quadara's queens dead. To survive, they must join forces and untangle the secrets behind the nation's four dead queens.
---