Collection Development, In The Studio
Erik Larson to Publish His First Work of Fiction on Audio, NO ONE GOES ALONE
Erik Larson, the #1 New York Times bestselling author of THE SPLENDID AND THE VILE and THE DEVIL IN THE WHITE CITY is set to publish his first work of fiction, NO ONE GOES ALONE, an audiobook original on September 28. Narrated by Julian Rhind-Tutt, this otherworldly tale of intrigue and the impossible marshals Larson's trademark approach to nonfiction to create something new: a ghost story deeply grounded in history, available exclusively on audio, because as Larson says, ghost stories are best told aloud.

I love a good ghost story, and decided while I was on tour for my book Thunderstruck, that I'd write the kind of story I wanted to read—something, moreover, that would incorporate some of the really bizarre, real-life material I'd uncovered in the course of researching the book. . . I also realized the perfect medium for this project was the audiobook, especially an audio original, because I do believe that ghost stories are best told aloud, whether at a campfire, or in front of the fireplace on a ghoulishly windy night. I can't wait to hear this one myself.
Erik Larson
Click HERE to read the full New York Times interview with Erik Larson.

Listen to a Clip from the Authors Note
NO ONE GOES ALONE
follows pioneering psychologist William James, a prominent member of the Society for Psychical Research, as he leads a team of researchers to the remote Isle of Dorn in 1905 to investigate the cause of several mysterious disappearances, most notably a family of four who vanished without a trace after a weeklong holiday on the island.
Was the cause rooted in the physical world . . . or were there forces more paranormal and sinister at work? The idyllic setting belies an undercurrent of danger and treachery, with raging storms and unnerving discoveries adding to a growing sense of menace. As increasingly unexplainable events unfold, the isolated party is unsure whether they can trust their own eyes, their instincts, one another—or even themselves.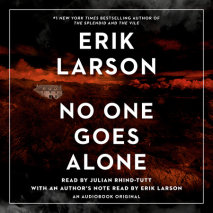 Erik Larson has written a terrifying tale of suspense, underpinned with actual people and events. Created specifically to entertain audio listeners, this eerie blend of the ghostly and the real will keep listeners captivated till the blood-chilling end.