Collection Development, Featured Titles, Guest Post
DREAMING IN CODE Author Emily Arnold McCully Shares Her Recording Experience
Award-winning illustrator and author Emily Arnold McCully explores the life of Ada Byron Lovelace in her new audiobook, Dreaming in Code. It's a biography that delves not only into a fascinating person, but also into history, social norms, and a challenging family.
Bringing her written words to life as the narrator of Dreaming in Code was a happy challenge for Emily Arnold McCully. She shares the experience with us:
---
When I was a child, radio was our medium. My father was a writer and producer at NBC in Rockefeller Center, where all the network programs originated. I longed to be an NBC page— a glamorous job with a cool uniform.
The NBC Symphony performed concerts there. As a small child who drew whenever I was seated, I made a portrait of Toscanini conducting (and presented it to him afterward). I visited the control room and saw actors at microphones holding scripts, watched as sound effects were made in a booth. Illusions were created that seemed real when I listened at home, entertaining a willing suspension of disbelief. In short, microphones were a kind of magic carpet.
Most of my time is still spent sitting alone, so the chance to record a book I've spent months writing is a delight and a privilege.
Dreaming in Code tells of the brilliant, tragically short life of Lord George Byron's daughter Ada Lovelace, who is now known as the first person, in 1842, to write a "computer program." Her controlling mother had Ada tutored in mathematics, thinking that the discipline would prevent Byron's wild imagination, not to mention his rash and disreputable behavior, from emerging in his daughter. As a result, Ada was a wildly imaginative (and sometimes misbehaving) mathematician able to foresee the possibilities of computers.
There are lots of quotations from letters by Ada and others in Dreaming in Code. Her style was exclamatory and very spirited, so it was fun to portray her character as if she were speaking to us. Charles Babbage, the "computer" or "thinking machine" inventor, was keenly conscious of the future and his legacy, as his letters show. There are several more characters from that intense early Victorian period so filled with amateur scientists, interest in the occult, hypnosis, mesmerism, electricity, and telegraphy, as well as heavy industry.
My main worry before the recording date was whether I could sustain the narrative—would my voice hold out, would I sound consistent? It was quite a surprise to discover that stomach growling and random limb shifts were the biggest hurdles. Surprisingly, bites of green apple are supposed to mitigate digestive interruptions.
The firm and reassuring director, May Wuthrich, made recording Dreaming in Code a pleasure that went swiftly by. And although I was fighting a cold, somehow that magic microphone concealed it. Reading the book aloud was a way of sending it into the world. It seemed to connect me to an audience—and what more could an author want?
---
Listen to a clip from Dreaming in Code: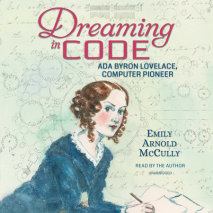 "A worthy addition to biography bookshelves." —
Booklist
"An exceptional biography and an important addition for all STEM collections." —School Library Journal, starred review
"Combining vivid narrative with impeccable research, Emily Arnold McCully not only gives readers a fresh and captivating live story, but also returns Ada Lovelace to her rightful place in history. I loved it!" Candace Fleming, author of The Family Romanov and The Lincolns
"A sophisticated yet accessible piece that humanizes a tragic, brilliant dreamer." —Kirkus

---
Browse more titles that should be in your STEM collection!