Discussion Guide: Hope: a Tragedy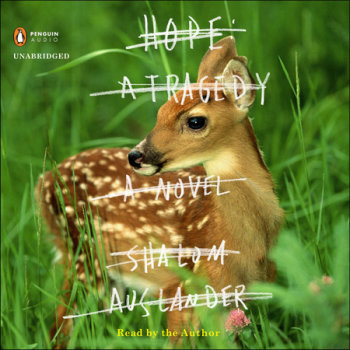 INTRODUCTION

Solomon Kugel left New York City to raise his family in a safer environment. Unfortunately, the rural enclave of Stockton, New York, is not the peaceful haven that he anticipated. An arsonist is running amok, Kugel can't cover the mortgage—and a putrid smell is emanating from the farmhouse's attic.
Instead of finding mouse droppings or a hibernating raccoon, Kugel discovers a withered woman who claims to be Anne Frank.
Kugel is not a practicing Jew. He doesn't know where to buy matzoh. He's never even read The Diary of Anne Frank. Yet, Kugel hews to his cultural stereotype in one crucial sense: he is crippled by guilt. Already torn between the needs of his wife, child, and aged mother, Kugel begins catering to his demanding attic dweller as well. Anne Frank adheres to the schedule she learned as a girl—sleeping through the day while writing the follow–up to her thirty–two–million–copy bestselling memoir at night. Downstairs, Kugel lies sleepless, listening to the steady "tap, tap, tap" of Anne's fingers on the keys and wondering if this is the night his house will be torched.
Filled with gut–wrenching pathos and brazenly irreverent hilarity, Hope: A Tragedy is wholly un–Kosher as it definitively confirms Shalom Auslander's arrival as a major literary force.
ABOUT SHALOM AUSLANDER
Shalom Auslander was "raised like veal" in Monsey, New York. Nominated for the Koret Jewish Book Award for writers under thirty–five, he has published articles in GQ, Tablet, The New York Times Magazine, andThe New Yorker, and has had stories aired on NPR's This American Life. The author of the short story collection Beware of God and the memoir Foreskin's Lament, he lives in New York.
DISCUSSION QUESTIONS
In the event of another Holocaust, would you hide Kugel in your attic? In what ways is he already living in an attic?
Do you think Anne Frank is really living in Kugel's attic? If not, what does her presence symbolize?
Kugel's mother thinks that Jonah—at three years old—should know about the Holocaust. Kugel, however, wants to raise his son in ignorance. At what age—if at all—should children be educated about difficult historical events? Is our devotion to "remembering" atrocities like the Holocaust ultimately harmful or necessary?
Kugel's therapist, Professor Jove, is his "trusted guide and adviser" (p. 3). Yet, he is unavailable whenever Kugel tries to reach him. What is his role in the novel?
Is hope as noxious a force as Professor Jove believes it to be?
The proliferation of food allergies and gluten intolerance is one darkly hilarious instance of irony in the novel. What are some others?
Are the barn burnings a red herring, or is Will Messerschmidt's story an important part of Kugel's story? Do you agree with Anne Frank when she says that "we'd have had fewer problems in this world if more people had the courage to be self–hating"?
Are you offended by Auslander's dark humor? Would the novel have been more or less potent without it?