Discussion Guide: Tending Roses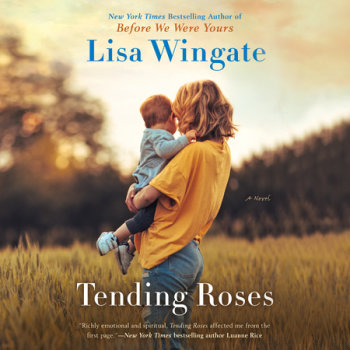 INTRODUCTION

The lessons that most enrich our lives often come at unexpected moments and from unlikely places. That's what Katie Benson learns when she moves temporarily—with her husband Ben and baby son—to her grandmother's Missouri farm. She arrives at a time of crisis and indecision—struggling with the demands of being a new mother, a not-so-new wife, and a well-meaning but often impatient granddaughter. The family has assigned her and Ben the job of convincing Grandma Rose, who's become increasingly stubborn and forgetful, to move off the land that means so much to her and into a nursing home. Katie knows such a change would break her grandmother's heart. But what is right for her grandmother? And what is right for herself and her family?
Just when Katie despairs of finding answers, she discovers her grandmother's journal. A beautiful handmade notebook, it is full of heartwarming stories that celebrate the virtue of patience, the power of love, and the importance of family, friendship, and faith. Stories that make Katie see her life—and her grandmother—in a completely new way... and lead her toward a new, more meaningful future...
ABOUT LISA WINGATE
Lisa Wingate graduated from Oklahoma State University with a B.A. in Technical English. She lives on a small ranch in Texas with her husband, Sam, and their two young sons.
AN INTERVIEW WITH LISA WINGATE
Tending Roses has such a wise and universal message. What inspired you to write this book?

The seedling for Tending Roses was planted along with a flower bed my grandmother and I tilled in front of my house ten years ago. As we worked, she gave instructions about simple things she had learned through long years of experience—how to wind the roots around an iris bulb, how to prune the branches on a rosebush, how to cut the blooms without harming the plant.

When my newborn son was fussy, we had to go inside instead of finishing the garden. My grandmother settled into a rocking chair, bundled him on her shoulder, and patted his back lightly—quieting him with a special sort of grandma magic.

Closing her eyes, she rocked slowly back and forth and told me about the time in her life when the roses grew wild. When she finished the last words, a tear fell from beneath her lashes, and she let out a long, slow sigh filled with sadness and longing.

Something profound happened to me then. I understood so much about her and about myself that I had never considered before. I had an almost painful sense of life passing by. I had a sense of life being not just a trip from here to there, but a journey with lots of good stuff, maybe the best stuff, in the middle. I realized that I was so focused on goals down the road, I was missing the value of where I was.

How did this epiphany evolve into a novel?

That night, when the baby was asleep and Grandma had gone to bed, I sat down and wrote the story longhand in a notebook. Over the next several days, I added more of her stories. They remained in the notebook for several years, but I never forgot them. I shared them occasionally with other writers and got a powerful response, but beyond that, I had little idea of what to do with them. They weren't appropriate as stand-alone works, and there were not enough of them to make a book.

So I just left them in a drawer and waited. The idea to use my grandmother's stories in a novel came at a time when I was beginning to feel a strong sense of meaning in my life, about four years after I wrote them. I was now the mother of a newborn, as well as a four-year-old. Because of my husband's career, we had moved to a place deep in the countryside. Life was quiet, and there was much less of familiar noises and busy schedules, shopping trips, dates with friends, phones ringing. I had a great deal of time to reflect on what I valued and what gave me joy and peace. Peace, I determined, was centered around my faith in God, my children, my family, and a desire to do something good with my life.

I think Tending Roses grew out of a need to communicate that process of soul-searching. I stumbled upon my notebook of Grandma's stories while cleaning out a desk drawer, and the idea just came to me. I started writing, and the words flowed so fast, I could hardly keep my hand on the keyboard. When I was finished the first day, I had written two chapters of something that was unlike anything I had ever done. I had never before poured so much of my heart into something or written something that was a combination of my own life and fiction. I had a strong desire to create something that had a sense of goodness to it, where good people do the right thing and wonderful things happen to them.

How long did you spend writing the book?

The original manuscript took about four months to write. It was more like catharsis than work. The words just seemed to flow, almost as if I was typing a book that had already been written somewhere in my mind. Of course, then I had to revise it about four times!

How much of the book is from your own experience?

Kate's feelings about motherhood and the struggle between career, a sense of self, and the demands of motherhood were from my own experience. The difficulty of maintaining self-esteem while being "just" a stay-at-home mom was from my own experience. The power of finding faith in God and forgiveness for those around us were from my own experience, and certainly so were the sense of the importance of parenthood and the need for closeness and the support of extended family.

Happily, a lot of the family problems in the book were fictional. The members of my family are an understanding lot, and we have never suffered the pain of being estranged from one another, though we have often lived at opposite corners of the country, which can create some of the same loneliness and longings.

Your book deals with so many important themes. Which ones do you hope will generate the most discussion?

I think some of the more nebulous themes are the importance of family, the need for forgiveness, and the value of faith. Some of the more concrete themes include the question of motherhood versus career, the notion of quality time versus quantity time with loved ones, the duty to care for one another, especially the elderly, and the difficulty of deciding how best to care for elderly parents and grandparents.

Secondary themes include the importance of active fathers, the materialistic focus of society, the needs of disadvantaged children, and the loss of the family homestead.

What do you see as the most important secondary themes in the book?

Dell's situation is certainly a secondary theme in the book. Thinking about my grandmother's hardships growing up made me realize that, even in this wealthy, advanced, speed-of-light society, many children still grow up with seemingly insurmountable difficulties and desperately need the kindness of strangers. The materialistic focus of today's society is also an important secondary theme. These days, we're convinced we are failures if we don't have everything. My grandmother had a lot to say about that.

The importance of community is an inescapable theme in the book. Human beings are basically tribal animals, and I think that these days a lot of us are missing a tribe.

Where are you personally at this stage of your life?

Well, I am the mother of two young sons who keep me running and keep me laughing. I wanted girls. I got boys. I never dreamed that boys could be so wonderful. But that is another story.

My husband and I live on a small ranch in the Texas hill country—a beautiful area filled with rugged vistas, ancient trees, and a strong sense of the past. We are avid horse people and spend a great deal of our spare time in various equine pursuits. We think we may have watched too many cowboy movies when we were young.

I have always, always, always been a writer, and cannot remember a time when I didn't write. My older brother, Brandon, taught me how to read and write before I started kindergarten. I wrote and illustrated my first book at five years old and have never stopped writing. I had a very special first-grade teacher, who recognized a little ability and a lot of desire in a small, shy transfer student and started reading my stories to the class. I quickly discovered the joy of having an audience and set out on many, many writing projects, with childhood dreams of one day being published.

Somewhere in between writing projects, I attended Oklahoma State University, received a B.A. in Technical English, and married my husband, Sam, also an OSU grad. After college, I took a job as a technical writer and continued writing and selling freelance projects on the side. Over the years, I have published various fiction and nonfiction titles, and have written more computer manuals than I can count. Fiction has always been my first love, particularly anything with a sense of history and triumph of the human spirit.

What things inspire you?

People inspire me. God inspires me. Love inspires me. Life's everyday miracles inspire me. I think most of us are stronger than we know, capable of more than we have ever imagined. I like to write about people pushing aside life's confines and roadblocks and setting the spirit free. I like to write about people forgetting the destination and enjoying the journey.

Are you working on another book now?

I am working on another novel that combines fiction with true stories and a sense of the past. The main character is very different from Kate, but is also in a rut and searching for her life's meaning. The themes are in some ways similar to Tending Roses and in some ways different. Just as no two people are the same, no two characters are the same, and no two stories the same.

Which is what makes life interesting, and fiction fun, and keeps writers writing. It's all just…sort of…potluck. You never know what's going to be in the next dish until you open it.
DISCUSSION QUESTIONS
Lynne Hinton, bestselling author of Friendship Cake, a novel that celebrates female friendship, has praised Tending Roses as a "rich story of family and faith that reminds us of the bittersweet seasons of life and our call to care for each other." What do you think she means by "the bittersweet seasons of life"?
 
How do the various characters in Tending Roses care for each other? Do you agree that we are all called to do so? Are we as obliged to care for people outside our families as we are for immediate family members? In your own life, how are you heeding or not heeding that call?
 
The wildflower journal continues to make mysterious appearances throughout the novel. Do you think Grandma deliberately leaves the book for Kate to read? Why does she choose to convey her advice in this way rather than verbally?
 
After reading Tending Roses and calling upon your own experience, do you think a mother or father can have a demanding career and still be a good parent? Is it naive to think you can "have it all"—both a satisfying career and an active role in raising children?
 
The author suggests that focusing on obtaining a lot of "stuff" makes it more difficult to nurture a healthy family. To what extent do you agree or disagree? If you wanted to simplify your own life, where would you start?
 
Some of the tension between Kate and her sister, Karen, arises from their very different situations—Kate's as a stay-at-home mom and Karen's as a childless career woman. Have you experienced a similar tension in your own family or community? What's at the root of this kind of problem, and how might you begin to diffuse it?