Discussion Guide: A Thousand Pardons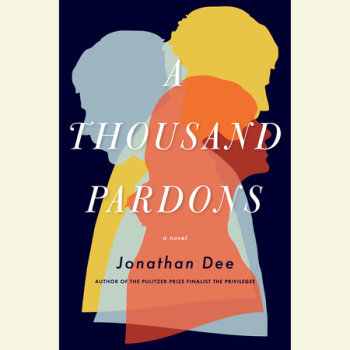 1. Scandals seem to be perennially topical. Did you see any parallels in the novel with real-life events?
2. Jonathan Dee's novels are often described as social critiques. Do you think A Thousand Pardons should be interpreted that way? If so, what is the author criticizing?
3. Helen has a special gift for making powerful men apologize. Why do people respond the way they do to these apologies?
4. Why is Sara drawn to Cutter? Does it have anything to do with why Helen was drawn to Hamilton?
5. Hamilton asks Helen for forgiveness but she thinks, "His whole life was a Method performance, a dream within a dream, but whatever he wanted from her, however preposterous, she was not free to refuse him." What transaction is being completed when she kisses him?
6. How did Sara's relationships with each of her parents change throughout the course of the book? Did you find Sara to be sympathetic?
7. Do you think Hamilton will ever find out the truth about what hap- pened to Bettina? Why does Helen hope that he never will?
8. By end of the book, Ben and Helen find themselves back where they started, at the house on Meadow Close. Have they come full circle? How have they grown or changed over the course of the novel?
9. Do you think Sara orchestrated her parents' reunion? If not, what brought Ben and Helen back together?
10. Do the characters in the novel deserve to be forgiven for their various transgressions?
11. Was the ending satisfying? What do you think will happen next?
12.  Is there anyone in your life who should issue a public apology? Or to whom you'd like to apologize?