Discussion Guide: Around the World in 80 Days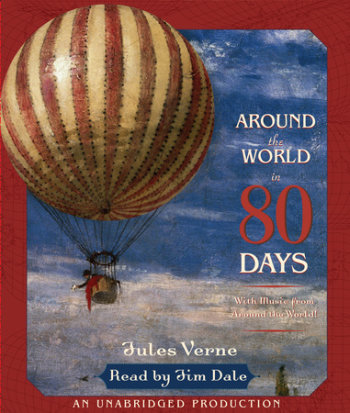 1. Having been born into a family that had made their living from the sea, Jules Verne spent his early years in a seaport town. When he was still young, Verne himself became a cabin boy on a merchant ship. In what ways do you think these elements of the author's own life may have influenced Around the World in Eighty Days?
2. Verne became very involved with theater while studying law in Paris and is the author of many plays. What elements in this novel do you think came out of Verne's theatrical experiences? After Eighty Days was published, Verne received many requests to dramatize the work. Do you think the book has particularly theatrical elements that would lead to its adaptation as a play?
3. Around the World in Eighty Days is considered one of the most popular adventure novels of all time. What do you think of this characterization and how would you compare it to contemporary adventure novels and films? What elements of the adventure genre have changed over time, and where do you think today's adventure authors owe a debt to Verne?
4. Although the story begins in London, it eventually spans the entire globe. Despite the international setting, this book is distinctly British in many ways. Why might Verne have chosen a protagonist that is so quintessentially British, while the author himself was French?
5. Verne had an avid interest in science, particularly geology and geography, and was somewhat of an inventor. After having read Around the World in Eighty Days, does it surprise you that Verne is considered by many to be the father of science fiction? Where do you think Verne's scientific expertise adds to the story?
6. For Verne, the world is shrinking; exploration has given way to tourism and imperialism. In his Introduction, Bruce Sterling argues that comments on globalization in Eighty Days are particularly relevant today. Would you agree? What evidence can you find to support this, and what lessons do you think we can learn from this novel today?
7. In many ways, Verne's tale is one about the future, and many of his ideas have come to pass. Now that it is relatively easy to go around the world in eighty days, why is this tale still entertaining and relevant?
8. Many of the characters in the novel have names that in some way illuminate their roles. Why do you think Verne chose to call his hero Fogg, the detective Fix, and the assistant Passepartout, which means skeleton key in French?
9. Why do you think the hero, the mysterious Phileas Fogg, accepts the bet to travel the globe in eighty days?
10. When the book was written, the Parsee Indian Aouda represented the unknown and the exotic, but in many ways she is the character that the modern reader finds most familiar. Do you think this is true? In what ways is she now more modern than many of the other characters?
11. The precise and very British Phileas Fogg and his valet, the comic and very French Passepartout, are strikingly different characters. In what ways do their differences help to elucidate their individual character traits? Why does Verne include this relationship? Most of the time Passepartout is more a hindrance to his employer than helpful. Why do you think Fogg keeps him? In what ways does he serve to advance the plot, particularly with Aouda?
12. In many ways, Fogg's travels are more than just a race around the world but a quest, one in which the hero returns somehow transformed. Do you think Fogg's character is changed when he returns to London at the end of the challenge?
13. At the conclusion of the novel, the narrator asserts that Phileas Fogg in his journey has gained nothing but a charming woman, who, strange as it may appear, made him the happiest of men! Verne seems to be making the point that love and human relationships are more important than winning bets or other material gains. Do you think that the rest of the novel would support this assertion? If not, why might Verne have included it?