Discussion Guide: That Old Cape Magic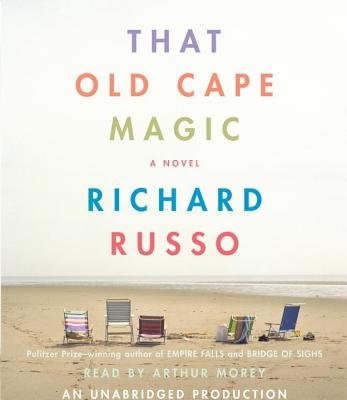 1. What does Jack Griffin want?
2. In reference to his parents' ongoing but fruitless search for a Cape Cod beach house, Griffin muses, "Perhaps . . . just looking was sufficient in and of itself" (page 9). Is looking enough? Which characters prove or disprove this point of view?
3. One page 16, Griffin points out to his mother that she and his father used to sing "That Old Cape Magic" on the Sagamore Bridge, "as if happiness were a place." Is it possible for happiness to be a place? Can a place save a relationship?
4. Griffin poses a question to himself: "Why was he more resentful of Harve and Jill, who really wanted to understand how he made his living, than his own parents, who had never, to his knowledge, seen a single film he had anything to do with" (page 49)? Griffin doesn't admit to an answer, but what do you think the answer is?
5. In "The Summer of the Brownings," young Griffin refuses to spend his last night on the Cape with Peter, even though the decision only serves to hurt everyone. Can you point to other incidents in which Griffin exercises his perverse desire to hurt himself and others?
6. Why is Griffin so apprehensive of commitment? What is he afraid of losing?
7. Griffin notes that "his wife's natural inclination was toward contentment" (page 105). What is Griffin's natural inclination?
8. Is Griffin afraid of being happy? Is being the happy the same as "settling"?
9. How has Griffin's cynicism caused him to misinterpret the intentions of those around him?
10. Why does it take so long for Griffin to dispose of his parents' remains?
11. Why does Griffin feel the need to carry on internal conversations with his mother?
12. How does Griffin's relationship with his parents lead to the dissolution of his marriage to Joy?
13. Why does Griffin insist on staying in L.A., away from Joy?
14. Griffin uneasily considers the parallels between Joy's attachment to himself and Tommy and Laura's attachment to Andy and Sunny. How do these similar triangles play out?
15. This book dances around the concept of responsibility: filial responsibility, marital responsibility, and personal responsibility, to name a few. What do Russo's characters feel about responsibility?


(For a complete list of available reading group guides, and to sign up for the Reading Group Center enewsletter, visit www.readinggroupcenter.com)