Discussion Guide: The Young Messiah (Movie tie-in) (originally published as Christ the Lord: Out of Egypt)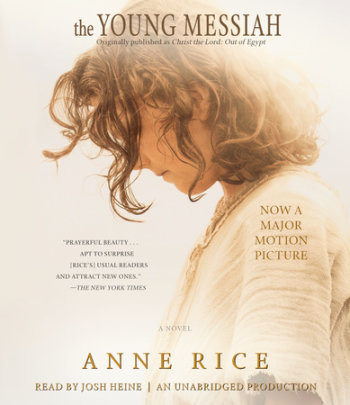 1. Christ the Lord: Out of Egypt is told in Jesus' voice. What advantages does the first-person narration offer the author? How does it contribute to the novel's emotional resonance? How does it influence the way the novel unfolds?
2. What other literary devices does Rice use to bring the story to life for the contemporary reader? Discuss, for example, her use of imagined conversations and her descriptions of the family's interactions.
3. The Gospel of Matthew and the Gospel of Luke recount the story of Jesus' birth, the flight to Egypt, and the family's return to Israel. Does Rice take liberties with these biblical versions in her retelling? To what extent does her account echo the Gospels in both content and tone?
4. Christ the Lord: Out of Egypt focuses on a period in Jesus' life not described in the New Testament. How realistic is Rice's portrait of Jesus as a young boy? How do the miracles he performs–killing and reviving Eleazer [pp. 4—7]; alleviating Cleopas' pain [p. 48] and rescuing him from death [p. 99]; and restoring sight to the blind man [pp. 279—80] –reflect feelings and wishes typical of a seven-year-old?
5. Throughout the book, Jesus questions Mary and Joseph, Cleopas, and rabbis and scholars in hopes of discovering the secret of his birth. What do the answers he receives from the various adults reflect about their relationship with Jesus, their understanding of the truth, and their own self-interests and philosophies?
6. What role does Cleopas play in his nephew's life? Why does he defy Mary and Joseph and reveal what he knows about Jesus' conception and birth [p. 45—47]? What other function does he serve in the plot? What insights do his opinions [p. 68, p.74, and p. 211, for example] give into the political situation in Israel? Is his point of view understandable in light of the history of the Jews as it is presented in the novel?
7. What makes Rice's portraits of Mary and Joseph effective? What did you admire most each of them? Are there flaws in the decisions they make?
8. Discuss the internal conflicts Jesus experiences as he pieces together the stories he hears and tries to reconcile them with his own his unsettling thoughts and fears. Do they make you feel differently about Jesus' humanity? His divinity?
9. Jesus' immersion in Jewish culture and traditions is an important aspect of the novel. What is the significance of Rice's focus on Jesus as a Jew? What insights does it give into Jesus' teachings and his ultimate mission on earth? Is the message relevant to the religious tensions in the world today?
10. Did reading Christ the Lord: Out of Egypt deepen your understanding of the origins of Christianity? Do you think readers' reactions to Christ the Lord: Out of Egypt are inevitably influenced by their personal religious beliefs and heritage?
11. In the author's note, Rice discusses her extensive research and offers a critique of recent New Testament scholarship. Do you agree with her criticism of the current "fashionable notions about Jesus" [p. 309]? Have you read articles or books that support her argument that many writers "scholars who have apparently devoted their life to New Testament scholarship, disliked Jesus Christ" [p.314]? Do you think that Rice's background and her strong Catholic faith affect the conclusions she draws?
12. Rice, who is best known for her books about vampires, expresses the hope that "Jesus will be as real to you as any other character I've ever launched into the world we share" [p. 321]. If you have read her other books, do you think that she succeeded in this goal? Whether or not you are familiar with her previous works, discuss your reactions to the following quotation: "After all, is Christ Our Lord not the ultimate supernatural hero, the ultimate outsider, the ultimate immortal of them all?" [p. 321].