Collection Development
Why Debbie Macomber's Bestsellers are Essential to Your Audio Collections
We are thrilled to celebrate bestselling author Debbie Macomber on her 35th publishing anniversary! As a huge fan of audiobooks herself, Debbie Macomber knows what makes for a great listen. Her sweet stories are a true delight on audio, providing the perfect gentle listens for patrons in need of a peaceful escape, an uplifting love story, or a heartwarming holiday tale.
"It has been my honor to produce Debbie's audiobooks over the last several years," says Dan Zitt, VP of Content and Grammy-winning audiobook producer, "not only because she writes such lovely novels, but because she is an actual listener of audiobooks. Her experience in listening to books has made for some interesting casting conversations over the years! Debbie and I carefully select each narrator together, and I believe that is why her audiobooks are so consistently some of the best on our list."
Whether cooking, knitting, driving, or simply sitting and relaxing, listeners will love connecting with the memorable characters in Debbie's audiobooks as read by expert narrators including Lorelei King, who reads the Cedar Cove series, Cassandra Campbell, Kimberly Farr, Rebecca Lowman, Allyson Ryan, and Karissa Vacker who reads Debbie's newest audiobook, Cottage by the Sea.
As Debbie shared with Bookpage in the article, Why I Love Audiobooks, "I'm a person who likes to multitask. One of my favorite things is to travel in a car with my husband, knit and listen to an audiobook. We enjoy listening so much that we've traveled beyond our intended destination just so we could finish a book. Wayne and I will often discuss the plot. There's such an advantage in being able to share our enjoyment of a story together."
Debbie also credits audiobooks for having an impact on her career, allowing her to read more and stay current with bestsellers, despite her dyslexia. She also loves a great non-fiction audiobook because as Debbie puts it, "What better way to learn than to sit and listen and knit all at the same time?"
Be sure to recommend Debbie Macomber's touching tales on audio to longtime listeners and book clubs, as well as those looking to try the format for the first time. Here are a few reasons why they are sure to love her audiobooks:
Listening to an audio Debbie Macomber book while having a cup of tea and crocheting/knitting reduces stress by 1000%!!!😁❤🌸

— justmechris (@chrisgalke1) May 30, 2017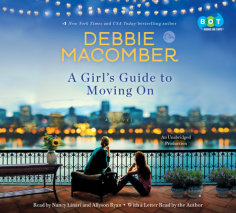 "This is a touching story about the unconditional bond between two women and how they change their lives. Allyson Ryan is perfect as Nichole, with a believable, frequently tongue-in-cheek delivery. Nancy Linari's Leanne is a bit more formal and professional. Recommended for fans of the author and of women's fiction in general."—Library Journal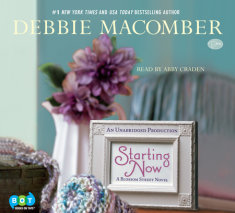 "Reader Abby Craden creates a cast of characters and still maintains a unique voice for the narrative. Recommended for new and existing Macomber fans as well for readers of contemporary, lightly inspirational, romance fiction."—Library Journal
NEW! The perfect beach listen can be checked out starting July 17th:

Don't miss her annual holiday audios—perfect for patrons to listen to while they travel or deck the halls! Coming October 2018:

MORE DEBBIE MACOMBER ON THE BLOG!
Check out her Listen While You Cook recommendations with recipes from her cookbook, Debbie Macomber's Table.