Awards & Recognition, Collection Development, Featured Titles
Congratulations to our 2021 Odyssey Honorees Fighting Words and When Stars Are Scattered
The American Library Association has announced the winners of the 2021 Odyssey Award and Honors, including Odyssey Honors for Fighting Words and When Stars Are Scattered! The ALA's Odyssey Award is given to the producer of the best audiobook produced for children or young adults, available in English in the United States. The award's name is taken from the Greek Odyssey epic, which was originally told and passed down in the oral tradition. Click HERE to watch the Odyssey Awards ceremony on YouTube.
Do you have these exceptional audiobooks in your digital collection? Listen to clips of these honor awarded audiobooks below: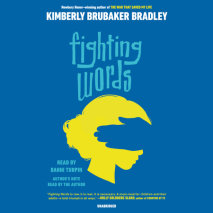 A candid and fierce middle grade novel about sisterhood and sexual abuse, by Newbery Honor winner and #1 New York Times bestseller Kimberly Brubaker Bradley, author of The War that Saved My Life.

"Narrator Bahni Turpin sensitively dramatizes a story for younger listeners about sexual abuse…Turpin fully realizes Della's mix of innocence, resilience, and courage as she confronts an unkind teacher, a bullying student, and her sister's pain. Authenticity abounds in the story's dialogue and situations."—AudioFile Magazine, Earphones Award winner
"The strong writing gives Della's world both heartbreak and humor; Turpin's narration radiates the range of emotions. Acknowledging the difficulty of voicing hard things like sexual abuse, this book emphasizes the power of finding one's fighting words to tell one's own story. Della, as voiced by Turpin, masterfully shares hers."—Booklist, starred audio review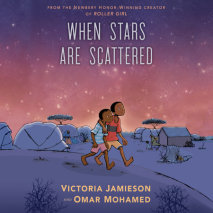 Heartbreak and hope exist together in this remarkable novel about growing up in a refugee camp, as told by a Somali refugee to the Newbery Honor-winning creator of Roller Girl.

"Skillful soundscaping and a full cast heighten the atmosphere and emotion in this audiobook, inspired by the childhood of coauthor Omar Mohamed… Ambient noises and sound effects—from boisterous classroom chatter to evening cricket song—further envelop listeners. Collectively, it's a moving and memorable listening experience."—
AudioFile Magazine, Earphones Award winner
"The audiobook edition of Omar Mohamed's autobiography, originally a graphic novel account co-authored with Victoria Jamieson, offers listeners an experience of perfection in its storytelling, format shifting, and performance. The full cast includes many audiobook-narrating stars. . . and features fine performances by Somalian American actors—including Faysal Ahmed as Omar—that make this truly an #OwnVoices experience. . . The story itself is one every American should hear, either to expose them to others' lives or as an echo to elements of their own."—Booklist, starred audio review