Spring '17 BOT CD SOP
1 Results
Find our ranked Spring '17 list below, full of exciting new listens on CD, listed in rank order. Visit our SOP page to download an Excel order form.
Please note: Our not-to-be-missed Spring '17 CD drop-ins are listed at the top of the page. These titles did not appear in our Spring '17 catalog and are not ranked; they must be added to any Smart Ship orders.
Download This List For Excel
Send Collection To Cart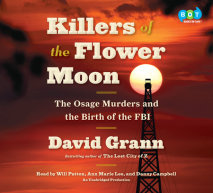 NEW YORK TIMES BESTSELLER   -  NATIONAL BOOK AWARD FINALIST "Disturbing and riveting...It will sear your soul." —Dave Eggers, New York Times Book ReviewSHELF AWARENESS'S BEST BOOK OF 2017Named a best book of the year by ...
List Price: $40
ISBN: 9780307747464