Fall '14 CD Drop-Ins
1 Results
Don't forget to add these exciting audiobooks to your library's shelves. SOP customers: Please note, these drop-in titles do not appear in the Fall '14 print catalog and were not ranked. Visit our SOP page to download a ranked list on Excel alongside these newly-added titles.
Download This List For Excel
Send Collection To Cart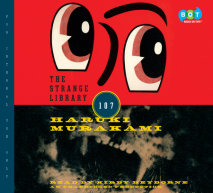 From internationally acclaimed author Haruki Murakami—a fantastical illustrated short novel about a boy imprisoned in a nightmarish library.   Opening the flaps on this unique little book, readers will find themselves immersed in the stran...
List Price: $20
ISBN: 9780553546538