Collection Development
Civil Rights Icon Ruby Bridges to Narrate THIS IS YOUR TIME audiobook
***CIVIL RIGHTS ICON RUBY BRIDGES TO PUBLISH THIS IS YOUR TIME, INSPIRATIONAL NEW BOOK AND AUDIOBOOK COMING FALL 2020***
Take note for your audiobook collections: THIS IS YOUR TIME will be available November 10, 2020, corresponding with 60th anniversary of Bridges' historic integration of an all-white school in New Orleans. And Bridges will read the audiobook!
Ruby Bridges has dedicated her life to fighting bigotry and intolerance and has spent the last 25 years speaking directly to young people around the world, believing that they will be the ones to guide us past our racial differences. Bridges was recently named one of 100 iconic Women of the Century by USA Today.
Says Bridges: "During the first few days of watching events unfold in our country recently, I felt myself waiting for guidance and I know many were feeling the same. Having spent years speaking to young people about racism, I felt compelled to say something, and after careful consideration, I decided a letter to my young people was the way. It is that group that has given me hope for decades, and they will be the drivers of change that we want to see tomorrow. What I was seeing reminded me of what I had seen before—of the struggle that took place during my walk up those stairs as a child in 1960. I want our young people to know that the chaos that I saw then was a direct path to the rights that so many of us had yet to be privileged to. I know that they are the ones who will lead us to the rights that all of us so strongly pray for and deserve, and I want them to hear it from me that if they stay united and keep their eyes on the prize, change will come."
Click here to learn more about the audiobook.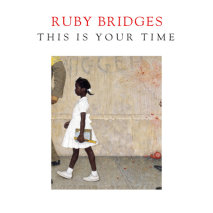 Inspired by the recent wave of activism led by young people fighting for racial justice, civil rights icon Ruby Bridges--who, at the age of six, was the first black child to integrate an all-white elementary school in New Orleans--shares her story and offers a powerful call to action with this elegant gift book.