Christina Uss: Audiobooks + Bikes = Inspired Adventure
Christina Uss is a debut novelist, but she has written about bicycling and travel for many magazines and newspapers.The Adventures of a Girl Called Bicycle was inspired in part by her own experiences while biking across the United States, once widthwise and once lengthwise.
Truly good audiobooks melt the ordinary world into an inconsequential puddle. The combined skill of author and narrator stimulate our senses to believe we're seeing new sights, smelling imaginary scents, willingly traveling with characters wherever they may lead. I sincerely hope listeners of my debut audiobook,
The Adventures of a Girl Called Bicycle
, find my story kindles one extra sense this summer: their sense of adventure.
I remember being motivated by fantasy-riddled, fabulism-spiced summer reads to get out on my bike and search for the unexpected. I was sure authors like Roald Dahl and Edward Eager were telling me about real things that could happen to real kids if we were only willing enough to open our eyes to the potential for weird wonder all around us. I'd pedal to my local pond to search for a floating island populated with hyper-intelligent, jazz-loving lizards. I'd ride to my friend Renee's house, scanning the pavement the whole way for the glint of a coin that might grant us wishes. I'd look up long, twisty driveways and speculate which led to ancient castles or mysterious factories or phantom tollbooths. Every time I coasted through my neighborhood, a possibility of magic beckoned wherever I pointed my wheels.
I blame that sense of adventure-waiting-to-happen for why I ended up riding my bicycle all the way across the country as an adult. And here's what I learned: the books that had inspired me to think the world was full of twists and turns so odd and satisfying we can't imagine them until we've been there…they were all COMPLETELY AND UTTERLY RIGHT. There are embarrassments of wonder everywhere, and bicycle travelers move at the exact right speed to catch up with all the best stuff.
Now my eleven-year-old twins and I fire up audiobooks for long car rides, knowing that when we can finally climb out of the car and onto our bikes, we'll be primed by these well-told stories to find excitement. (And we want to remind cyclists of all ages, for safety's sake, finish that real-world-melts-away audiobook listening before biking. We two-wheeled riders need our senses fully alert to the real world.)  Here are a few middle-grade titles we recommend to inspire you to pedal into the unknown. Believe wild and wonderful things are in store for you.
And once you're done listening, find great destinations to bicycle with your families here:
Rails-to-Trails Conservancy online trail finder for traffic-free trails and paths: www.traillink.com
The Adventure Cycling Association has mapped out two-wheeled excursions of all lengths in all fifty states: www.adventurecycling.org
Listen to an excerpt of Christina Uss's THE ADVENTURES OF A GIRL CALLED BICYCLE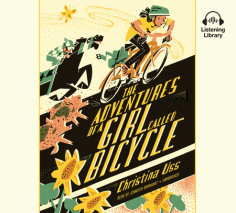 Introverted Bicycle has lived most of her life at the Mostly Silent Monastery in Washington, D.C. When her guardian, Sister Wanda, announces that Bicycle is going to attend a camp where she will learn to make friends, Bicycle says no way and sets off on her bike for San Francisco to meet her idol, a famous cyclist, certain he will be her first true friend.
Praise for THE ADVENTURES OF A GIRL CALLED BICYCLE
"Pleasantly peculiar…Readers who enjoy action and adventure with a dose of magic will happily go along for the ride."—Booklist
"Middle grade fans of realistic coming-of-age tales, especially those interested in cycling, will appreciate this unusual work."—School Library Journal
★"Readers will eagerly join Bicycle and 'pedal headfirst' into this terrific adventure, which is chock-full of heart and humor."—Kirkus Reviews (starred review)