Celebrating our 2023 Odyssey Honor: THE FIRST HELPING (Lunch Lady Books 1 & 2) Full Cast Audiobook Recording
Check your CD & digital audiobook menus… err we mean, collections! Listeners who are hungry for the best audiobooks for kids do not want to miss THE FIRST HELPING (Lunch Lady Books 1 & 2) by Jarrett J. Krosoczka, read by the hilarious Kate Flannery (The Office), author Jarrett J. Krosoczka, and a Full Cast, selected as an Odyssey Honor by the 2023 Odyssey Committee for Excellence in Audiobook Production! The audiobook was produced by Jarrett J. Krosoczka and Lauren Klein, with Executive Producer Nick Martorelli.
As shared by the American Library Association: "Audiobooks constitute a fast-growing area of usage in libraries. The award is named after the epic poem titled, 'The Odyssey,' which was told and retold in the oral tradition and eventually ascribed by the poet Homer, on the tales of Odysseus as he returns to his kingdom after the Trojan War. The Odyssey Award allows us to return to the ancient roots of storytelling, while living in our modern world."
The 2023 Odyssey Committee had this to say about the delicious Lunch Lady audio production: "These graphic novels have been reimagined by author Jarrett J. Krosoczka into a full cast audio production. The larger-than-life voices and sound effects set a perfect tone for retelling a beloved series, allowing it to be enjoyed in a new way."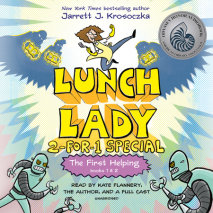 "A full cast transports listeners straight to the school lunchroom for two silly, sound effects-laden, cartoon-like adventures."—AudioFile
Keep the fun going with THE SECOND HELPING (Lunch Lady Books 3 & 4) coming February 22, 2023!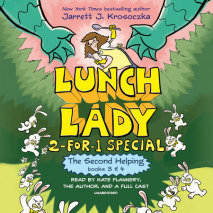 Another two adventures in one! Available on CD and audio download, featuring the same great cast of voices from the Odyssey Honor-winning first collection in the series.
HEAR MORE about how graphic novels are brought to life on audio including Odyssey Honor, THE FIRST HELPING! Check out this fascinating panel featuring both author Jarrett J. Krosoczka and producer Nick Martorelli: