Celebrating our 2022 Odyssey Honor Audiobooks: PERFECTLY PARVIN and EMMANUEL'S DREAM
Have you heard? The American Library Association's Odyssey Award committee has named two Listening Library titles as 2022 Odyssey Honors, recognizing excellence in children's and young adult audiobooks: PERFECTLY PARVIN by Olivia Abtahi, narrated by Mitra Jouhari and EMMANUEL'S DREAM: The True Story of Emmanuel Ofosu Yeboah by Laurie Ann Thompson, read by Adjoa Andoh! Don't miss your chance to share these standout productions with your patrons via your digital audiobook collections!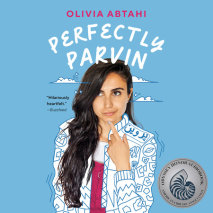 In PERFECTLY PARVIN, Olivia Abtahi's heartfelt and outright hilarious debut, fourteen-year-old Iranian-American Parvin Mohammadi sets out to win the ultimate date to homecoming. But Parvin discovers that being a rom-com dream girl is much harder than it looks. Also hard? The parent-mandated Farsi lessons. A confusing friendship with a boy who's definitely not supposed to like her. And hardest of all, the ramifications of the Muslim ban on her family in Iran. Suddenly, being herself has never been more important. Narrated by Iranian-American actress and writer Mitra Jouhari (
Three Busy Debras
,
Big Mouth
,
Search Party
).
The Odyssey Committee says: "Mitra Jouhari is an exceptional narrator, capturing Parvin's comical, awkward energy. Jouhari delivers authentic Farsi phrases and proper pronunciation while also delighting listeners with Parvin's perfectly hilarious thoughts."
Also available in print and eBook from G.P. Putnam's Sons Books for Young Readers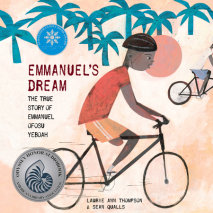 Emmanuel Ofosu Yeboah's inspiring true story EMMANUEL'S DREAM—which was turned into a film,
Emmanuel's Gift
, narrated by Oprah Winfrey—is nothing short of remarkable. Born in Ghana, West Africa, with one deformed leg, he was dismissed by most people—but not by his mother, who taught him to reach for his dreams. As a boy, Emmanuel hopped to school more than two miles each way, learned to play soccer, left home at age thirteen to provide for his family, and, eventually, became a cyclist. He rode an astonishing four hundred miles across Ghana in 2001, spreading his powerful message: disability is not inability. Adjoa Andoh (
Bridgerton
,
Invictus
) performs the audiobook edition, accompanied by evocative music and sound effects. EMMANUEL'S DREAM was also named a Schneider Family Children's Book winner and ALSC Notable Children's Book in 2016.
The Odyssey Committee says: "Andoh's expressive voice brings out the joy and triumph in this uplifting story, working in tandem with the warm musical score."
Also available in print and eBook from Schwartz & Wade

The ALA's Odyssey Award is given to the producer of the best audiobook produced for children or young adults, available in English in the United States. The award's name is taken from the Greek Odyssey epic, which was originally told and passed down in the oral tradition. The ALA also awards the prestigious Caldecott, Carnegie and Newbery Medals and Printz Award for excellence in children's literature. Penguin Random House Audio titles have earned five Odyssey Awards and 20 Honors.