In The Studio
CASTING NEWS! Samira Wiley narrates a new Dr. Seuss
Emmy® Award–winning actress Samira Wiley (Orange is the New Black, The Handmaid's Tale) narrates the audiobook of DR. SEUSS'S HORSE MUSEUM, an original Dr. Seuss story. Uncovered in Theodor "Dr. Seuss" Geisel's home 21 years after his death, this latest Seuss treasure follows a lovable horse who takes a group of students on a guided tour of the horse museum, exploring all types of art and the various ways artists depict the animal.
Listeners will learn about the vastly different portrayals of horses in varying time periods, mediums, and unique styles, from ancient cave paintings to modern Impressionism and Surrealism. Whether listened to at home or in the classroom, Wiley's narration of DR. SEUSS'S HORSE MUSEUM is just the audio guide every museumgoer is looking for.

Available on September 3rd! Perfect for little ones to listen to while they draw and create art of their own!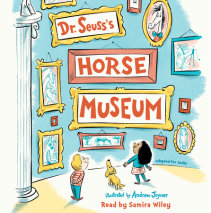 A never-before-published Dr. Seuss book about creating and looking at art!   Based on a manuscript and sketches discovered in 2013, this audiobook is like a visit to a museum—with a horse as your guide!   Explore how different artists—including Picasso, George Stubbs, Rosa Bonheur, Alexander Calder, Jacob Lawrence, Deborah Butterfield, Franz Marc, Jackson Pollock—have seen horses and maybe even find a new way of looking at them yourself.