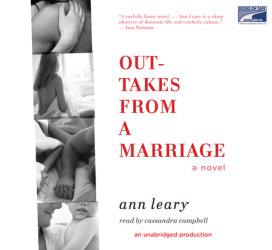 Outtakes From a Marriage
A Novel
Imprint: Books on Tape
Genre: Fiction - Women

Release Date: June 17, 2008
7 Hours and 50 Minutes
List Price: $76
ISBN: 9781415955932
Julia and Joe Ferraro are living the good life in Manhattan now that Joe's finally made it; he's the star of a hit TV show and has just been nominated for a Golden Globe award. After many lean years, they've got a grand Upper West Side apartment and an Amagansett beach house, and their two kids go to elite private schools. Even better, Julia and Joe are still madly in love.

Or so Julia thinks until the fateful evening when she accidentally hears a voice mail on Joe's phone–a message left by a sultry-sounding woman who clearly isn't just a friend. Suddenly Julia is in a tailspin, compulsively checking Joe's messages, stalking him in cyberspace, and showing up unannounced on his sets. Julia's search forces her to consider the possibility that in the long process of helping Joe become something, she has become a bit of a "nothing,." A big husband-stalking nothing.

Now, faced with the looming awards show and the possibility of a destroyed marriage, Julia embarks on an accelerated self-improvement routine of Botox, hair extensions, and erotically charged shrink sessions while dodging the sancti-mommies who lie in wait for her at her son's preschool each day.

A untique take on the perennially popular issue of women trying not to lose themselves in matrimony and motherhood, Outtakes from a Marriage is expertly and humorously set against the Manhattan preschool mafia, the Hollywood machine, and the ticking clock of a waiting red carpet.